'Avengers: Infinity War' TV Spot: It's Kill Or Be Killed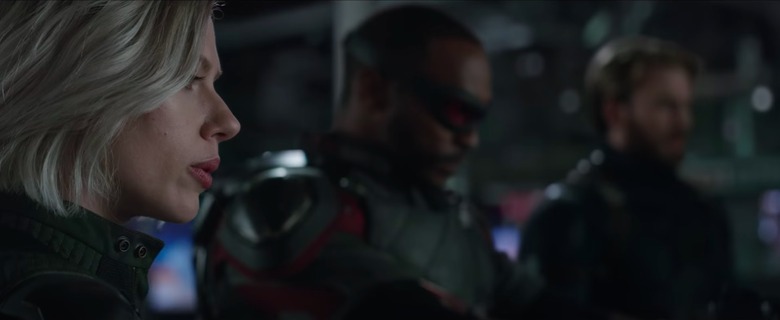 The stakes have never been higher for our favorite heroes of the Marvel Cinematic Universe. Death has always dogged the Avengers, but in the latest Avengers: Infinity War TV spot, it's a kill or be killed situation.
The Avengers and the Guardians of the Galaxy face their most daunting foe yet, in the form of Thanos and his henchmen, the Black Order. But together, they could have a fighting chance.
Avengers Infinity War TV Spot
This TV spot is full of footage we've already seen in the first two official trailers for the film and this week's earlier TV spot, but the last few seconds are jam-packed with delicious new scenes and action.
We get a glimpse of Scarlet Witch (Elizabeth Olsen) trying to defend her man Vision, Black Widow fighting one of the Black Order, some shots of fan-favorites Nebula and Okoye in combat, and of course, Hulkbuster.
"We don't want to kill you," Black Widow warns someone chillingly. "But we will."
Oh yes, this movie will be insane.
Avengers: Infinity War has one of the most impressive ensembles in history, including Scarlett Johansson, Josh Brolin, Robert Downey Jr., Mark Ruffalo, Tom Hiddleston, Chris Evans, Chris Hemsworth, Jeremy Renner, Chris Pratt, Elizabeth Olsen, Sebastian Stan, Benedict Cumberbatch, Paul Bettany, Samuel L. Jackson, Chadwick Boseman, Cobie Smulders, Benedict Wong, Zoe Saldana, Karen Gillan, Dave Bautista, Pom Klementieff, Don Cheadle, Tom Holland, Bradley Cooper, and Anthony Mackie.
Here is the official synopsis for Avengers: Infinity War:
As the Avengers and their allies have continued to protect the world from threats too large for any one hero to handle, a new danger has emerged from the cosmic shadows: Thanos. A despot of intergalactic infamy, his goal is to collect all six Infinity Stones, artifacts of unimaginable power, and use them to inflict his twisted will on all of reality. Everything the Avengers have fought for has led up to this moment – the fate of Earth and existence itself has never been more uncertain.
Avengers: Infinity War is set to hit theaters on April 27, 2018.