John Mulaney's 'Kid Gorgeous' Stand-Up Special Hits Netflix In May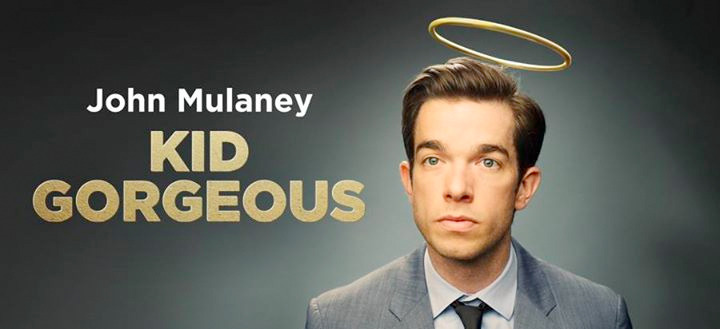 John Mulaney is one of the best stand-up comedians working today, and he's also one of the best writers that Saturday Night Live has ever had. Mulaney was responsible for co-creating the recurring Weekend Update character Stefon, and since leaving the sketch series, he's carved out a fantastic career in comedy, ranging from sitcoms to Broadway to Netflix and more. But it's his stand-up specials that I might love the most, and he has a new one coming to Netflix this spring.
Netflix has announced that John Mulaney's latest stand-up special, Kid Gorgeous, will be coming to the streaming service in May after being recorded at Radio City Music Hall in New York City earlier this year. John Mulaney followed up the announcement with some extra details:
May 1 2018. "Kid Gorgeous at Radio City" premieres on @NetflixIsAJoke. Directed by Alex Timbers. Music by Jon Brion. Set by Scott Pask. Starring me John Mulaney. pic.twitter.com/l9LUvZysy8

— John Mulaney (@mulaney) March 28, 2018
The special was recorded February 17, 2018, and it will mark the second special he'll be debuting exclusively on Netflix. Back in 2015, Mulaney's special The Comeback Kid hit the streaming service after being recorded at The Chicago Theatre in the Windy City. Yours truly was lucky enough to be at the recording of that special, and it was one of my favorite live stand-up performances ever.
As for Kid Gorgeous, Mulaney has been touring this special since May of last year (with the exception of a break in August), stopping all over the United States. He even returned to his old stomping grounds at The Chicago Theatre, where I was lucky enough to see Mulaney again. I wrote about it in The Water Cooler, but in case you missed it, here's what I had to say about yet another fantastic stand-up show from the comedian:
Mulaney brought his usual musings about his childhood as well as his more recent years spent with his wife and dog Petunia (who has her own Instagram and almost got as much applause when mentioned as Mulaney did when he came out on stage). But this time he also talked briefly about his time spent working at SNL, including a fantastic bit about writing with Mick Jagger, which was hilarious.
But perhaps the most praiseworthy portion of Mulaney's new special is how he approaches the controversial political climate of today. He's able to mock Donald Trump and his presidency, and if I remember correctly, he doesn't once mention the man's name. Instead, he comes up with the perfect metaphor for his presidency involving a horse and a hospital that brings huge guffaws and another level of brilliance in political satire. I can't wait for this special to get released so I can watch it again and again.
Since there are usually variances among different venues as far as the material on comedy tours is concerned, I'm interested to see which bits make it into the final cut of the special. In fact, one of the more intriguing aspects is the presence of composer Jon Brion doing the music for this special.
At the Chicago stop of Mulaney's tour, he brought one of his childhood friends on stage for a rare encore. This friend was a musician, and he was brought on stage with a drum set to provide some jazzy musical accompaniment to one of Mulaney's favorite stories from his childhood. It also just so happens to be one of my favorite bits from his stand-up history. Will Jon Brion join Mulaney on stage for something similar? We'll find out when Kid Gorgeous hits Netflix on May 1, 2018.
Oh, and if you're a John Mulaney fan who was worried about his special New in Town being one of the titles leaving Netflix in April, we have good news. That title isn't actually leaving Netflix after all. Mulaney says the deal for Netflix to have it in their library is in the process of being renewed, so it'll be sticking around for a good long while. Make sure you watch it if you haven't already.