'Avengers: Infinity War' Clip: Thor Meets The Guardians Of The Galaxy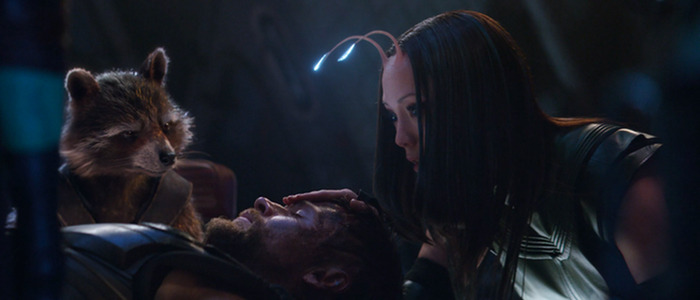 Last night, Nickelodeon broadcast the 2018 Kids' Choice Awards, featuring plenty of slime and awards handed out as determined by the network's young fanbase. Jumanji: Welcome to the Jungle went home with the favorite movie prize, but the real winner was Avengers: Infinity War, which debuted a new clip during the awards last night. Check it out below.
Watch the Avengers Infinity War Clip
The clip hasn't been made available online by Marvel Studios, but it was ripped from the Kids' Choice Awards and has been making the rounds on YouTube. We'll replace with a better quality version if one becomes available, but in the meantime, this one will do the job.
The footage features Thor (Chris Hemsworth) meeting the Guardians of the Galaxy for the first time. Thor lands on the windshield of the crew's new ship, much to the chagrin of Rocket Raccoon. But when they bring him inside the ship to examine him, Drax the Destroyer (Dave Bautista) and and Gamora (Zoe Saldana) find him to be quite the impressive specimen, which annoys Peter Quill (Chris Pratt) a little bit.
This is presumably after Thanos (Josh Brolin) has laid waste to the transport ship that Thor escaped on along with Valkyrie (Tessa Thompson), Hulk (Mark Ruffalo), Korg (Taika Waititi), Loki (Tom Hiddleston) and the rest of the surviving Asgardians. But if Thor is the only one who the Guardians of the Galaxy stumble upon, that doesn't bode well for the rest of the Asgardians, especially since Loki previously failed Thanos in The Avengers.
If the clip feels familiar, that's because it was part of the footage that played at The D23 Expo and San Diego Comic-Con last year. The only footage we haven't seen from that sneak preview now is when Thanos pulls down the moon to hurt The Avengers. We've seen a still of that moment though, so there's a chance we'll see it in footage before the movie debuts next month.
As the Avengers and their allies have continued to protect the world from threats too large for any one hero to handle, a new danger has emerged from the cosmic shadows: Thanos. A despot of intergalactic infamy, his goal is to collect all six Infinity Stones, artifacts of unimaginable power, and use them to inflict his twisted will on all of reality. Everything the Avengers have fought for has led up to this moment – the fate of Earth and existence itself has never been more uncertain.
Avengers: Infinity War arrives in theaters on April 27, 2018.