The Monty Python Comedy Catalog Is Coming To Netflix This Year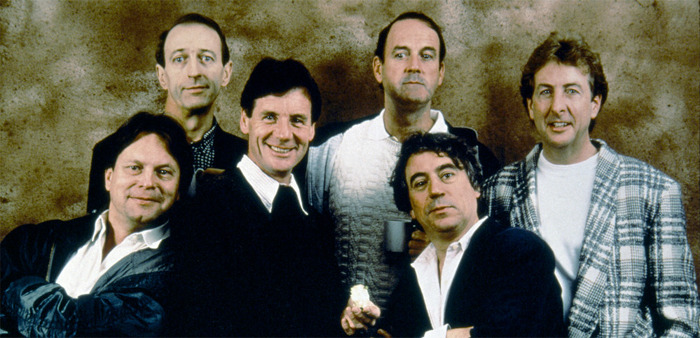 The comedy troupe Monty Python was a milestone in the evolution of comedy.
Hailing from the United Kingdom, members Graham Chapman, John Cleese, Terry Gilliam, Eric Idle, Terry Jones, and Michael Palin brought some of the most surreal, silly and satisfying laughs to television in the 1970s with their sketch series Monty Python's Flying Circus. That success led them to the big screen, where they delivered revered comedy classics like Monty Python and the Holy Grail, Monty Python's Life of Brian and Monty Python's The Meaning of Life.
Now the hilarious work of Monty Python is coming to Netflix as the streaming service has just landed the rights to a huge chunk of the Monty Python comedy catalog, including their most famous television and film works, as well as a couple reunions and even a documentary about the troupe's comedic influence. Find out what's part of the Monty Python Netflix deal below.
Monty Python's Flying Circus
This is where Monty Python got their start in 1969. The series aired 45 episodes of comedy sketches through 1975. What was so great about the comedy of Monty Python was the range of comedy on display. Of course there was silliness, but there was also smart material here, political and social commentary from time to time, and a surreal quality (especially from intermittent animated segments) that really tied the insanity of it all together rather nicely.
Monty Python and the Holy Grail
Easily the crown jewel of Monty Python's work on the big screen, this is one of the most beloved comedies of all time. It influenced generations of comedians and spoof-style hilarity for years to come. Also, did you know that the money to make the film was raised in part with investments from rock groups such as Pink Floyd, Jethro Tull, and Led Zeppelin. Crazy!
Monty Python Live (Mostly): One Down, Five to Go
Though they no longer have Graham Chapman with them, Monty Python reunited for a live show in 2014. It was their first live performance in 34 years, and it could end up being the last time they all get together like that. It was initially planned as a single show, but expanded to 10 because the demand for tickets was through the roof. Thankfully, for those who couldn't attend, it was recorded and broadcast into theaters, and soon you'll be able to watch it on Netflix.
Monty Python Conquers America
This documentary looks at the history and evolution of Monty Python, not to mention the influence they had on comedy. Talking heads from the likes of Judd Apatow, Hank Azaria, David Hyde Pierce and more reflect on their love of Monty Python and the legacy of comedy that still has an impact on entertainment today.
The Rest of the Monty Python Coming to Netflix
Above are just some of the titles we wanted to call out, but here's the whole list of the titles that will hit Netflix this year:
Monty Python & the Holy Grail
Monty Python's Life of Brian
Monty Python's Flying Circus
Monty Python's Fliegender Zirkus
Monty Python's Personal Best
Monty Python Best Bits (mostly)
Monty Python Conquers America
The Meaning of Monty Python
Monty Python: The Meaning of Live
Monty Python Live (mostly): One Down, Five to Go
All of these titles are expected to hit Netflix in the United Kingdom, Canada and other international territories on April 15, but they won't arrive in the United States Netflix library until sometime later this year. You might notice that not everything from their library is here, such as Mothy Python's The Meaning of Life (though the live special for the film's 30th anniversary is included). But there could be more additions on the way.