Chris Evans Is Officially Leaving Marvel After 'Avengers 4'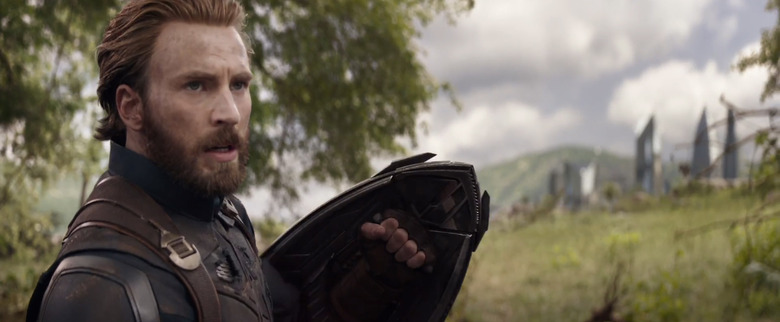 Oh Captain, my Captain America. Chris Evans will no longer hold that title after the events of the fourth Avengers movie. The actor confirmed that he is officially leaving the Marvel Cinematic Universe after the release of Avengers 4.
We knew that the Marvel Cinematic Universe would change drastically after the events of Avengers: Infinity War and the still-untitled Avengers 4. But were we prepared for just how much it would change?
Captain America was one of the founding members of the cinematic Avengers — including Iron Man, Thor, Black Widow, Hawkeye, and Hulk — but he won't stick around as more superheroes join and leave the heroic team. We suspected as much, with Evans' Marvel contract ending with Avengers 4, but now it's sounding official.
According to a New York Times profile, Evans has confirmed Avengers 4 will be his last film with Marvel Studios:
Last year, he filmed back-to-back the final two Marvel movies for which he is under contract — Avengers: Infinity War, due in April, and a sequel planned for next year. For now, he has no plans to return to the franchise ("You want to get off the train before they push you off," he said), and expects that planned reshoots in the fall will mark the end of his tenure in the familiar red, white and blue super suit.
This news comes eight years to the day after Evans was first confirmed to be cast as Steve Rogers. Evans initially signed up for six Marvel movies, but when the studio split Infinity War into two films, he extended his contract to include a seventh film. But that would be the last time Evans is extending his contract. He's seemingly done with the MCU.
What Could the MCU Look Like After Avengers 4?
Evans joins Chris Hemsworth on the contract-ending train – the Thor star also finishes his Marvel run after Avengers 4. And with Infinity War directors Joe and Anthony Russo hinting at big character deaths in the upcoming Avengers films, it's possible that their characters' departures will be as permanent as can be.
Time to fire up your fan theory guns.
Will Cap bite the bullet in Avengers 4, sacrificing himself for the greater good in the fight against Thanos? Will Sam Wilson (Anthony Mackie) or Bucky Barnes (Sebastian Stan) step up to wield the Captain America shield, as their characters did in the comics? What will the next line-up of Avengers look like when the heroes emerge from the aftermath of their battle with Thanos? (My bet is on Captain Marvel, Black Panther, New Captain America, Doctor Strange, and Ant-Man and the Wasp.)
We won't know until Avengers 4 hits theaters on May 3, 2019. Meanwhile, Infinity War nears its April 27, 2018 release date.