'Avengers: Infinity War': James Gunn Gives Rave Review, Marvel TV Crossover Impossible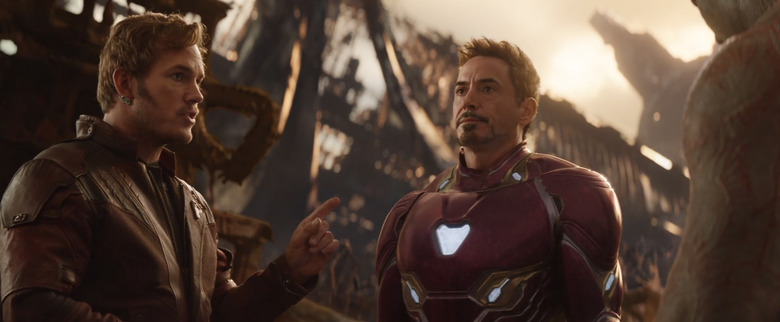 Avengers: Infinity War is poised to take over the world when it hits theaters in April. And it already has a rave review from one Marvel director.
Guardians of the Galaxy director James Gunn ushered his motley crew of galaxy-saving heroes into the MCU, turning them into an uber-popular team that threatened to dethrone the Avengers. So it would be natural that he would feel possessive of them, or least nervous that Star-Lord and co., are in the hands of other directors. But it looks there's nothing to be worried about.
James Gunn's Reaction to Avengers: Infinity War
We're still a month away from the worldwide release of Infinity War, but a lucky few have gotten to see it early. One of those lucky few was none other than James Gunn.
Gunn has been nothing but supportive of Joe and Anthony Russo's climactic Avengers sequel, and he seems as enthusiastic as ever now that he's seen it. Like all Marvel Studios employees, however, he remains tight-lipped on details. And like all Marvel Studios employees...did you really expect him to drop a negative review on Twitter? But can you imagine? "Avengers Infinity War is TERRIBLE Whoa. And that's all I'll say for the time being."
Anyway, it's an exciting vote of confidence for Avengers: Infinity War, which is gearing up to be the biggest superhero event of the year.
No Marvel TV Crossover Planned
Speaking of Joe and Anthony Russo, the directing duo have a lot on their plate. Not only do they have to craft a satisfying climax to the 18 movies in the Marvel Cinematic Universe, they have to do it while juggling 70-plus characters.
But that leaves them strictly relegated to the "cinematic" part of that universe, leaving no room to nods to the Marvel Netflix or ABC series that reside within that expanded universe as well. In an interview with the French publication Premiere, the Russo brothers said that it's "practically impossible" to stage a Marvel movie and TV crossover at this point:
We have considered everything. But the trick is that we already have at least sixty characters with whom we must tell a story! And it's hard enough to communicate with Taika Waititi, Ryan Coogler, Scott Derrickson, Peyton Reed and James Gunn at the same time, not to add all the showrunners and TV crews to this. The latter is also led by totally different people. So it's practically impossible. Our job is to focus on the Marvel film world and offer a satisfying climax.
It does feel like the Marvel TV universe is getting increasingly underserved, with nary a reference or even a nod to the TV shows present in the Marvel movies. Instead, Marvel TV chief Jeph Loeb and the Marvel TV shows, particularly Agents of S.H.I.E.L.D., are forced to do all the footwork to persuade viewers that "#ItsAllConnected" but even they seem disillusioned at this point.