Meltdown Comics Is Closing, But Will Remain A Bastion Of Pop Culture And Comedy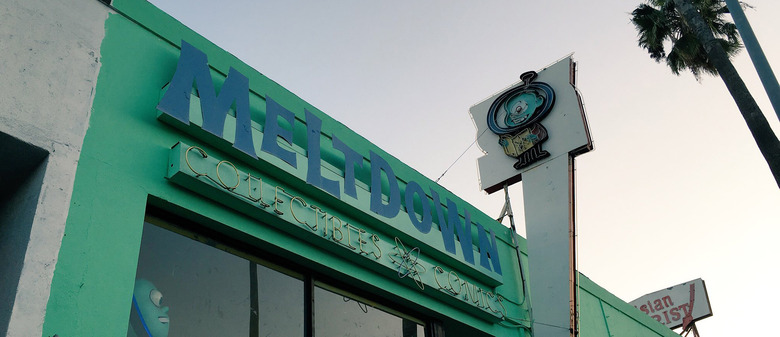 For 25 years, Meltdown Comics has played host to pop culture nerds and geeks in Los Angeles, providing not only the latest comic books for perusing, but collectibles and memorabilia, role-playing games, beloved comedy shows and podcasts, and much more. But sadly, Meltdown Comics will be closing for good at the end of this month.
Nerdist announced the news of Meltdown Comics closing, which makes sense since the shop served as the home base for The Nerdist Podcast (now known as ID10T), the launching point for what has become a multimedia empire serving nerds and geeks all over the globe.
The shop was always supporting indie artists and writers, both in comics and comedy. It was a spot that cultivated the nerdy interests of generations of fans, some of whom would go on to create their own content for the world to enjoy.
Meltdown Comics also became famous even for those who have never been to Los Angeles. That's because the backroom comedy shows that took place in the NerdMelt Showroom served as the launching point for comedians like recent Oscar nominee Kumail Nanjiani and new Mystery Science Theater 3000 host Jonah Ray, who would go on to create a Comedy Central show around the stand-up scene that blossomed there:
From that show spawned plenty of talents who have become famous comedians touring the country, appearing in film and television, and even appearing at the Academy Awards. The reach of those comedians went even further thanks to the recording space afforded by Meltdown Comics for shows like You Made It Weird with Pete Holmes, The Indoor Kids and many more.
Though the doors may be closing, the talents spawned from Meltdown Comics will live on, and so will the legacy of this little shop that has touched so many lives.
Meltdown Comics Says Goodbye
Here's the letter provided to Nerdist by Meltdown Comics founder Gaston Dominguez-Letelier:
To The City of Angels,
As is the case with all good things, at some point they must come to an end. Meltdown Comics is no exception to this rule and so, after 25 years coveting every comic treasure we could lay our hands on, I'm sharing that on March 30th I'll be closing our doors for the final time.
No business is easy, least of all one rooted in paper surrounded by brick and mortar, yet against all odds we survived just long enough to host, share, and celebrate some of the most creative and imaginative artists in the world. It has been my personal privilege to welcome so many incredibly talented minds through our doors giving them and their work a home in this great city of ours.
And what a wonderfully surreal run it's been... we've watched every fad, trend, and next big thing come and go while customers became celebrities, children blossomed to adults, geeks morphed into moguls, and fanboys scored Oscars. Throughout it all, I've been most fortunate to be surrounded by my family and the best staff anyone could have ever wished for – through thick and thin you supported Meltdown and invested in me, I will never be able to repay you but know that I am eternally grateful and forever in your debt.
As I prepare to extinguish Sunset's neon know that there is a new path for me (more later) and I close Meltdown without any regret. For 25 years I have been enriched by every inquisitive mind I have encountered on this journey and for that I humbly thank you, all of you.
In signing off, I urge you all to continue creating comics, buying comics, and supporting the comic book world that has given us all so much over the years.
For one last time, #LetsgoMELTDOWN!
Thank you, LA
Sincerely,
Gaston DL
Meltdown Comics
October 26, 1993 – April 1, 2018
Gaston Dominguez-Letelier doesn't shine a light on why Meltdown Comics is closing, but Nerdist seems to imply that it might have something to do with the real estate market in the area, since luxury condos are being built on certain parts of the famous Sunset Boulevard.
Even though I'm not a Los Angeles resident, I was lucky enough to check out Meltdown Comics a couple times while I was there, and I'm truly bummed that I won't be able to do that again. Here's hoping Meltdown Comics has something else exciting in store, especially since the website asks you to sign up for a newsletter that will clue you in to what the next 25 years will bring.
Farewell, Meltdown Comics. You will be missed.