'Deadpool 2' Trailer: The Merc With A Mouth Is Back For More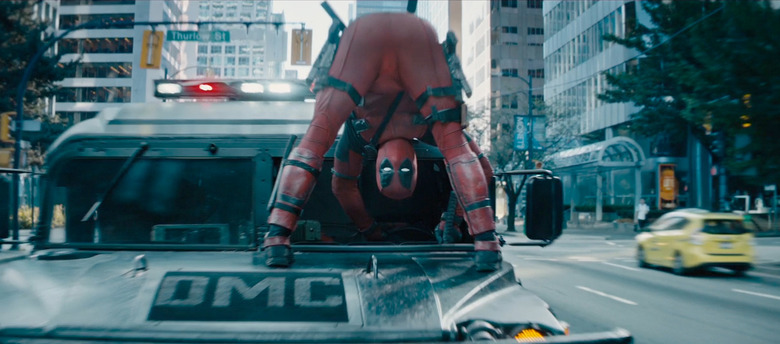 Marvel's Merc with a Mouth made major bank at the box office back in February of 2016. In fact, the R-rated, fourth wall-breaking, comic book comedy performed so well at the box office that it warranted a prime summer release date for the sequel, and a new trailer proves that summer is the best place for this bombastic superhero.
Deadpool 2 not only brings back Ryan Reynolds as the mercenary formerly known as Wade Wilson, but he also gets some new pals to play with. Zazie Beetz plays Deadpool's new ally Domino while Josh Brolin plays the time traveling, cybernetically enhanced mutant assassin known as Cable, and fans at test screenings liked the new characters so much that reshoots added even more of them to the film. Now a new Deadpool 2 trailer gives us even more of the new characters, new jokes and new nonsense on display in the sequel.
Watch the Deadpool 2 Trailer
The latest Deadpool 2 trailer doesn't disappoint. The jokes fly a mile a minute, as do the bullets and bits of brain. While this is our first "traditional" trailer with more plot and character details than ever, Deadpool 2 still can't help poking fourth-wall fun at itself. "It lives up the hype — plus, plus," Wade Wilson promises about the superhero sequel.
We get our first real look at Cable, who is on the hunt for Hunt for the Wilderpeople star Julian Dennison, a kid with mutant powers. After getting a humiliating beat-down from Cable, Deadpool takes it upon himself to protect the kid — but he will need a little help in the form of the X-Force, a.k.a. heroes who are "tough, orally flexible, and able to carry their own franchise in 10-12 years."
Deadpool 2 also brings back Morena Baccarin as his girlfriend Vanessa, T.J. Miller as his buddy Weasel, Stefan Kapicic and Brianna Hildebrand as the mutant duo Colossus and Negasonic Teenage Warhead, Leslie Uggams as Blind Al, and Karan Soni as Dopinder.
Atomic Blonde director David Leitch is at the helm of the sequel with a script by Rhett Reese and Paul Wernick.
After surviving a near fatal bovine attack, a disfigured cafeteria chef (Wade Wilson) struggles to fulfill his dream of becoming Mayberry's hottest bartender while also learning to cope with his lost sense of taste. Searching to regain his spice for life, as well as a flux capacitor, Wade must battle ninjas, the yakuza, and a pack of sexually aggressive canines, as he journeys around the world to discover the importance of family, friendship, and flavor – finding a new taste for adventure and earning the coveted coffee mug title of World's Best Lover.
Deadpool 2 is set to hit theaters on May 18, 2018.