Cool Stuff: Mezco Toys 'Ghostbusters' Figures Are Ready To Believe You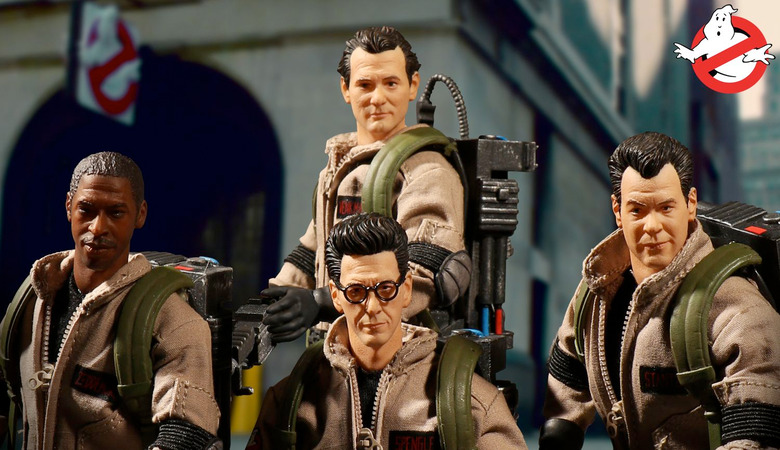 When there's something strange in your neighborhood, who ya gonna call?
If you're a toy collector, then you might want to give Mezco Toys a call for their latest deluxe box set of Ghostbusters figures. Well, you can't really call them to place an order since you have to do it online, but you get what we're saying. Mezco Toyz has revealed their new One:12 Collective deluxe box set of all four Ghostbusters: Peter Venkman (Bill Murray), Ray Stantz (Dan Aykroyd), Egon Spengler (Harold Ramis) and Winston Zeddemore (Ernie Hudson).
Check out the Mezco Toys Ghostbusters figures line-up below.
Mezco Toys Ghostbusters Figures
Here's how Mezco Toys tries to sell you on picking up these paranormal exterminators
They ain't afraid of no ghost! Mezco welcomes everyone's favorite parapsychologists into the One:12 Collective with a five-figure deluxe set  – all four Ghostbusters plus a supernatural bonus figure: Slimer! Each Ghostbuster comes with their own light-up proton pack and is packaged in a special edition, collector-friendly metal tin, perfect for displaying alongside the troop!
The One:12 Ghostbusters Deluxe Box Set features all four heroes, each boasting two head portraits: one natural and one scared expression, and also features the likeness of Bill Murray, Dan Aykroyd, Harold Ramis, and Ernie Hudson. Each of the 4 paranormal paladins comes with their own proton pack with a light-up feature, perfect for pesky encounters with ectoplasmic entities. Simply press the button on the proton pack to activate! No detail was overlooked when designing the Ghostbusters' uniforms which feature working zippers, functional pockets, nametags, and the Ghostbusters logo.
Each of the characters also comes with their own unique accessories. Peter Venkman comes with the Bacharach Sniffer 300, Ray Stantz comes with the ghost trap and ecto goggles, Egon Spengler comes with a PKE meter and Winston Zeddemore comes with Slimer.
What's impressive is that the entire set of figures will only cost $300, and considering the quality on display here, that's not bad. They're not quite as good as the quality of the sixth scale Ghostbusters figures (and the Ecto-1 that fits them) from Blitzway, but just one of those figures cost as much as this entire set, so this might be a good option for the collector who wants something better than toy store action figures, but not necessarily the most expensive figures on the market.
If you want to pre-order the Mezco Toyz Ghostbusters figure (they'll arrive later this year), just head over here.