'Deadpool 2' Test Screening Scores Outshine The Original, New Trailer Debuts Tomorrow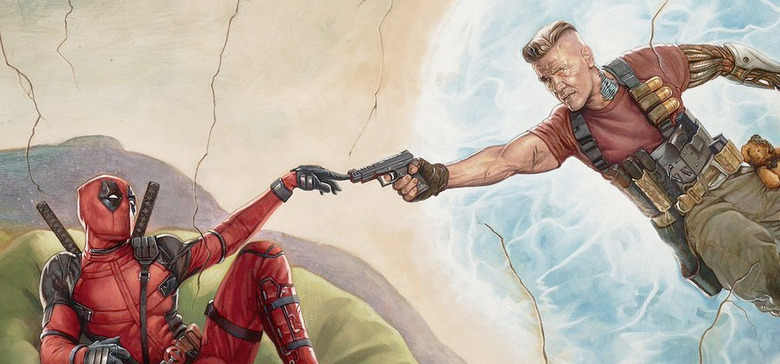 This year brings Deadpool 2 to theaters, and it will attempt to follow up the massively successful R-rated superhero comedy released back in 2016. If the trailers are any indicator, the sequel from Atomic Blonde director David Leitch really ups the ante in the comic book action department without sacrificing the comedy that made the original stand out. And it seems like the first audiences agree.
The latest Deadpool 2 test screening scores have the movie receiving numbers as high as 98, which outshines the original film's highest score of 91. And for all those fans wanting to see more of this apparently crowd-pleasing sequel, there's a new Deadpool 2 trailer arriving sometime tomorrow.
Collider was first to squash rumors that Deadpool 2 was scoring poorly at audience test screenings. Their sources indicated that the first test screening of the movie in January yielded scores around 90 or 91. A second screening with a more finely tuned cut then scored around 97 according to The Hollywood Reporter. But it was the most recent cut that brought in the highest score.
The final Deadpool 2 test screening happened in Dallas, where two different cuts were played. One scored a 98 while the other scored a 94. The higher-scoring cut will be heading to theaters, though it's unclear if this cut included the footage recently completed on reshoots following the early test screening reactions that demanded more of Josh Brolin as Cable and Zazie Beetz as Domino. We're assuming that the reshoots material was included, thus the higher score.
A Secret Cameo in Deadpool 2
Speaking of reshoots, THR's report on the Deadpool 2 test screening scores includes an interesting detail that should have fans speculating endlessly in the two months remaining before the film hits theaters. Apparently, in addition to the reshoots that took place in Vancouver, they note: "There was also two hours' worth of work recently in Los Angeles for a secret cameo."
A secret cameo? Could Hugh Jackman make an appearance as Wolverine? Could one of the Avengers make a cameo as a way of solidifying the gestating deal between Disney and 20th Century Fox? Will another Marvel Comics character make an appearance to tease the X-Force movie? Anything is possible.
Otherwise, Deadpool 2 already features the return of Ryan Reynolds as the Merc with a Mouth, Morena Baccarin as his girlfriend Vanessa, T.J. Miller as his buddy Weasel, Stefan Kapicic and Brianna Hildebrand as the mutant duo Colossus and Negasonic Teenage Warhead, Leslie Uggams as Blind Al, and Karan Soni as Dopinder. Plus, Hunt for the Wilderpeople star Julian Dennison joins the cast this time around.
In the meantime, stay tuned for the new Deadpool 2 trailer tomorrow. Here's the official synopsis:
After surviving a near fatal bovine attack, a disfigured cafeteria chef (Wade Wilson) struggles to fulfill his dream of becoming Mayberry's hottest bartender while also learning to cope with his lost sense of taste. Searching to regain his spice for life, as well as a flux capacitor, Wade must battle ninjas, the yakuza, and a pack of sexually aggressive canines, as he journeys around the world to discover the importance of family, friendship, and flavor – finding a new taste for adventure and earning the coveted coffee mug title of World's Best Lover.
Deadpool 2 is set to hit theaters on May 18, 2018.