'Action Point' Trailer: Johnny Knoxville Owns An Extremely Dangerous Theme Park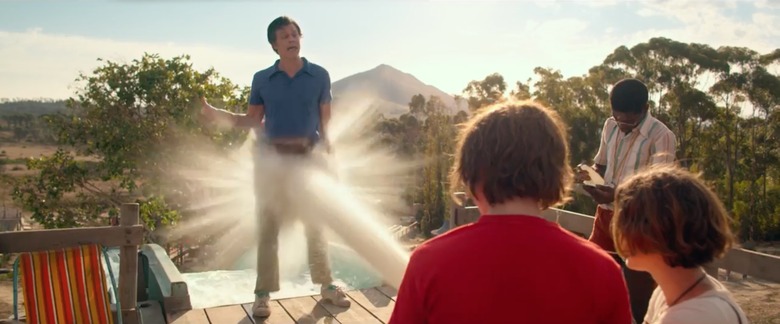 Johnny Knoxville hasn't been in a theatrical movie since 2013's Bad Grandpa, but now the former Jackass star is getting back to his daredevil ways in a brand new film. It's called Action Point, and it's loosely based on a very real (and very dangerous) theme park that operated in New Jersey. Check out the Action Point trailer below, and learn more about the bizarre water park that inspired the movie.
Action Point Trailer
Now seems like a good time to recommend a little indie movie called The Way Way Back, a great coming of age movie about a quiet kid who becomes a lifeguard at a crappy water park run by Sam Rockwell. It's terrific, and while Action Point certainly looks more adventurous, I'm hoping it'll take a lesson from The Way Way Back and mix some heart in there so we care about its characters just as much as its stunts.
Action Point is loosely based on a New Jersey water park called Action Park, which operated for years despite being insanely dangerous. According to Wikipedia:
The park's popularity went hand-in-hand with a reputation for poorly designed, unsafe rides; under-aged, under-trained, and often under-the-influence staff; intoxicated, unprepared visitors; and a consequently poor safety record.
That's putting it mildly – six people died at the park over the years. Multiple people drowned in an excessive wave pool, one person was electrocuted by a live wire, and untold more were injured on unsafe rides like a concrete Alpine Slide or a water slide that featured a loop-de-loop. Check out this short documentary about the real Action Park:
Action Point is directed by Tim Kirkby (Veep, Brockmire). Chris Pontius, Dan Bakkedahl, Matt Schulze, Eleanor Worthington-Cox, Johnny Pemberton, Brigette Lundy-Paine, Joshua Hoover, Conner McVicker, and Eric Manaka co-star alongside Knoxville. Here's the official synopsis:
Everyone's favorite daredevil Johnny Knoxville is back to his hilariously painful antics in the upcoming comedy ACTION POINT. Knoxville stars as D.C., the crackpot owner of a low-rent, out-of-control amusement park where the rides are designed with minimum safety for maximum fun. Just as D.C.'s estranged teenage daughter Boogie comes to visit, a corporate mega-park opens nearby and jeopardizes the future of Action Point. To save his beloved theme park and his relationship with his daughter, D.C. and his loony crew of misfits risk everything to pull out all the stops – and stunts – making for another wild ride from the star of BAD GRANDPA and JACKASS.
Action Point arrives in theaters on June 1, 2018.