LOL: 'Jurassic Park' Auditions Reel Uncovered On 'Saturday Night Live'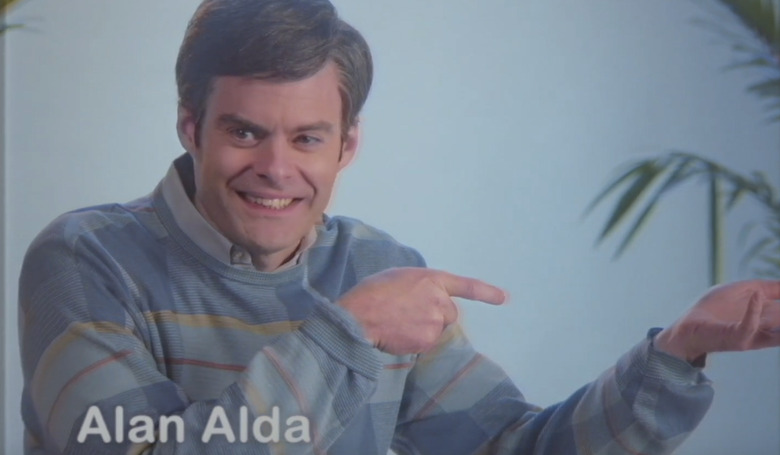 This year marks the 25th anniversary of Jurassic Park, and this past weekend, Saturday Night Live celebrated by uncovering a collection of never-before-seen auditions from a slew of talents back in 1992. Of course, these auditions feature talented cast members like Kate McKinnon, Pete Davidson, Leslie Jones, Mikey Day, Alex Moffat, Kenan Thompson and host Bill Hader merely putting on their (mostly) best impressions of famous faces from 1992.
This collection of Saturday Night Live Jurassic Park auditions features a surprising number of names with hilarious impressions bringing them to life. They include Alan Alda, Jodie Foster, Hugh Grant, Wesley Snipes, Al Pacino, Whoopi Goldberg and even Sinbad. But there are plenty more names you wouldn't be expecting in a blockbuster movie like this, which is part of what makes this so damn funny.
Saturday Night Live Jurassic Park Auditions
Bill Hader never disappoints, and he certainly didn't when he hosted the best Saturday Night Live of the season over the weekend. The Alan Alda impression he does is uncanny, and while his Al Pacino may not be the most accurate, it's a hilarious caricature.
Meanwhile, Kate McKinnon brings back her staple Ellen DeGeneres impression with a different hairstyle, as well as making a fantastic Lisa Kudrow. But where she really shines is that pitch perfect impersonation of Jodie Foster in Silence of the Lambs.
Some surprisingly great entries come from Leslie Jones as Whoopi Goldberg, Heidi Gardner as Drew Barrymore, Melissa Villaseñor as Gwen Stefani and Kenan Thompson as Sinbad, which is more funny because of the fact that hes's just doing stand-up for his audition and not really doing all that great of an impression.
Whenever SNL does a cavalcade of impressions in the form of a movie audition reel, it's usually a winner (thought not always). If you want more of this, make sure to check out the Star Wars: The Force Awakens audition reel over here.