Watch A Silly New 'Rampage' Trailer, Then Check Out Some Concept Art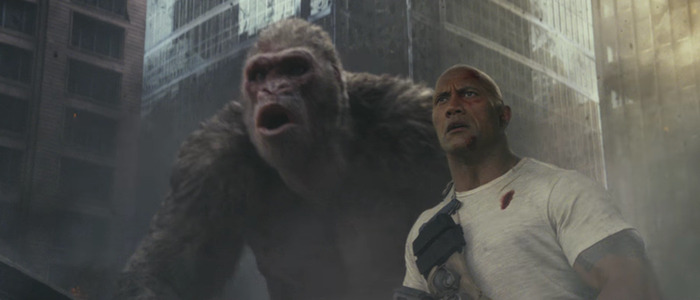 We may receive a commission on purchases made from links.
Realizing the premise of Rampage is rather silly, a new trailer for the film leans into that silliness and gives star Dwayne "The Rock" Johnson an opportunity to yell at you from the gym. In addition to that, new Rampage concept art reveals a behind-the-scenes look of the film. See that and the new Rampage trailer below.
In Rampage, Dwayne Johnson brings the 1990s arcade game to the big screen. The film's premise is, to put it lightly, kind of goofy. Johnson plays a primatologist dealing with mutated monsters laying waste to a major city. Rather than try to portray the film as a dark and gritty blockbuster, a new Rampage trailer embraces its silliness in all its glory.
Watch the Rampage Trailer
As the trailer begins, Johnson is chilling in the gym, filming himself with a cellphone. From there, he intros the trailer, only to get angry when a graphic insinuates he's "running for his life." This trailer is less about selling you on the movie and more about selling you on the movie's star: The Rock. The man is a bonafide superstar now, and any film he appears in – no matter how silly – is going to draw a crowd.
Here's the official synopsis for those who may not be up to snuff:
Primatologist Davis Okoye (Johnson), a man who keeps people at a distance, shares an unshakable bond with George, the extraordinarily intelligent, silverback gorilla who has been in his care since birth. But a rogue genetic experiment gone awry mutates this gentle ape into a raging creature of enormous size. To make matters worse, it's soon discovered there are other similarly altered animals. As these newly created alpha predators tear across North America, destroying everything in their path, Okoye teams with a discredited genetic engineer to secure an antidote, fighting his way through an ever-changing battlefield, not only to halt a global catastrophe but to save the fearsome creature that was once his friend.
Rampage Concept Art
Speaking of Rampage, Collider debuted some new concept art from the film. The art highlights the creation of George, the huge silverback gorilla that Johnson's character takes care of. I'm a big fan of making-of art books – even for films I'm not particularly excited about. They provide a neat inside-view of the filmmaking process, and highlight the staggering amount of work that goes into seemingly simple shots.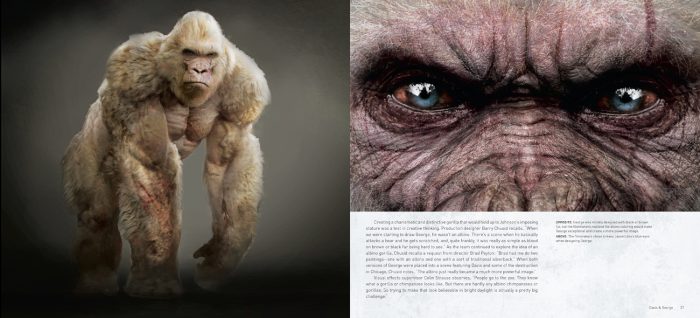 The book the art comes from, The Art and Making of Rampage, "explores the creation of this blockbuster movie and provides an extraordinary behind-the-scenes look at the amazing design and concept art that brought this thrilling movie to life. Exclusive interviews with the cast and crew provide a closer look at the making of this action-packed movie."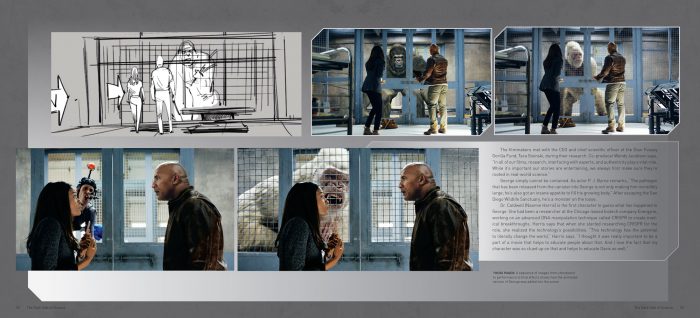 This is my favorite piece of concept art, because you can see actor Jason Liles right before the CGI is layered over him to turn him into George. Just think: there are hours and hours of footage of Liles running around the set acting like a giant mutant ape. Movies! They're magical!
Rampage opens April 13, 2018, and you're totally going to see it, aren't you?