'Beauty And The Beast' Live Concert Casts Zooey Deschanel As Belle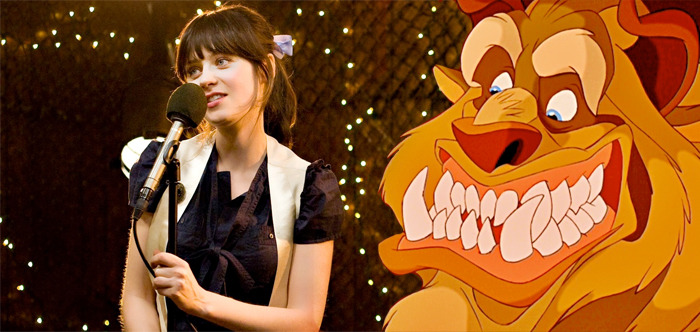 Disney's live-action adaptation of its animated classic Beauty and the Beast was a huge hit last year, but it didn't satisfy all the fans out there. Some were particularly disappointed with the obviously enhanced vocal work of Harry Potter franchise star Emma Watson when singing as the charming, sharp, bookworm villager Belle. But they might be more satisfied with the latest casting of Belle in an upcoming Beauty and the Beast live concert production coming to The Hollywood Bowl this spring.
Following previous live concert renditions of The Nightmare Before Christmas and Willy Wonka and the Chocolate Factory, the Beauty and the Beast live concert features an all-star cast that will be led by (500) Days of Summer and New Girl star Zooey Deschanel. And if that wasn't intriguing enough, the rest of the cast features an interesting assembly of talent as well.
The Beauty and the Beast live concert will happen on May 25 and May 26 this year at The Hollywood Bowl in Los Angeles. Joining Zooey Deschanel as Belle will be Anthony Evans (Caged No More), who may not be a well-known talent. But the other supporting cast members you'll certainly recognize.
The roles of Gaston and LeFou have been mixed up a bit. Taye Diggs is playing the muscular hunk who pines for Belle while Rebel Wilson is playing a gender-swapped version of his bumbling sidekick. That sounds like an odd pairing, though individually those roles sound intriguing.
Meanwhile, the Beast's caretakers-turned-household-items will include Kelsey Grammer playing Lumiere (though no one has been set to play his clock counterpart Cogsworth, but that's likely because he doesn't have a big musical number). As for the role of Mrs. Potts, responsible for singing the famous title song, that's going to 30 Rock and Unbreakable Kimmy Schmidt star Jane Krakowski.
Event director Richard Kraft says the Beauty and the Beast live concert is "mixing film, live music, singers, dancers, digital projections, effects, and special guest artists to create an event that pays homage to the original movie but also delivers something that can only be experienced live." That includes conductor Michael Kosarin leading the full orchestra and choir performing the film's full score. The event also includes a live performance of the 1948 Disney short film Bumble Boogie performed by 16-year old pianist Emily Bear. So this won't just be a simple sing-a-long concert.
Tickets go on sale starting Friday, March 16 at 10am PT. Here's the event poster for you to peruse: