Fox Is Itching For A 'Buffy The Vampire Slayer' Revival, But Not Without Joss Whedon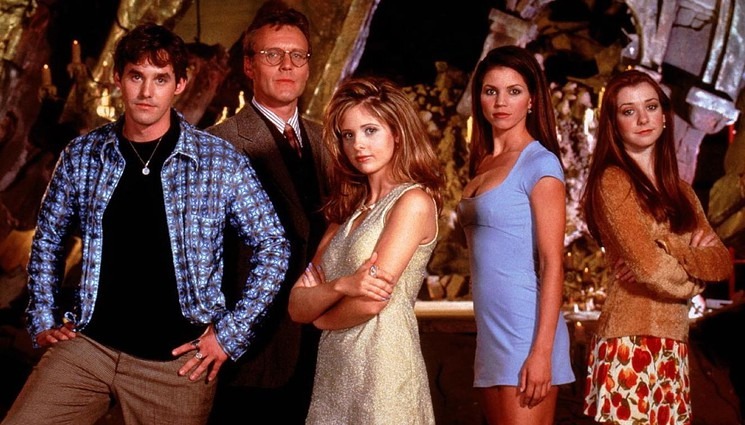 Buffy the Vampire Slayer knows a thing or two about letting things stay six feet under. But in the age of a million revivals and reboots, even the slayer of the undead could end up resurrected.
A Fox executive says that a Buffy the Vampire Slayer revival has been "frequently" discussed at the Fox Television Group. But thankfully, the revival would never move forward without the blessing of creator Joss Whedon.
Fox TV group chair Gary Newman says that the group has been eyeing Buffy the Vampire Slayer as its next potential reboot, according to Variety. "I think if you look in our library, Buffy is probably the most ripe show we have for bringing back," Newman said at the at the INTV Conference in Jerusalem.
But almost immediately, Newman acknowledged that he "wouldn't get out of the building alive" if he announced a Buffy revival:
"It's something we talk about frequently, and Joss Whedon is really one of the greatest creators we ever worked with. When Joss decides it's time, we'll do it. And until Joss decides it's time, it won't happen."
Hear that Joss? If the apocalypse comes and you want to return to Buffy, beep Fox.
A revival of Whedon's landmark '90s supernatural series has been bandied about since the show went off the air in 2003. There was even talk of a Buffy the Vampire Slayer movie reboot eight years ago.
And Whedon's reaction to a revival has swung from straight-up rejection ("I always hoped that Buffy would live on even after my death.  But, you know, AFTER," Whedon told E! Online in 2010) to reluctant acceptance. When show celebrated its 20th anniversary last year, Whedon told EW:
"Everything sort of finds its way back somewhere. I've been trying deliberately to move forward and do something a little bit different. But yeah, the great thing is everybody looks great, and the other great thing is the show is about growing up. If we did it with these guys, they'd be the age they basically are. They'd probably play a little younger because they can do that. But yeah, you'd see somebody going through their life at a different stage.
If a revival does happen, it does call into question what happens to the Buffy the Vampire Slayer comics, which continued the show's story after the season 7 finale. Will they be erased from existence? Or will they influence the stories for the revival a la the Star Wars Expanded Universe? I hope the latter, because some of those stories are bonkers.
The Case Against a Revival
Sarah Michelle Gellar starred as the titular Buffy in the seminal '90s horror/teen soap about a young girl who is fated to slay vampires and demons. Buffy the Vampire Slayer took what could have been a gimmick ("high school is hell") and turned it into one of the best TV shows in history.
It was a groundbreaking series that earned a devoted following over its seven seasons — including myself. It's still inspiring to rewatch Buffy today and see how far ahead of the curve it was for complex, strong female characters and emotionally-driven storytelling. You can see everything from Jessica Jones to Teen Wolf taking its cues from Buffy.
That's why Fox should leave Buffy as is. There are some things that a revival could improve on — the show's lack of diversity for one — but Buffy the Vampire Slayer left a lasting legacy that can only be tarnished by a revival.