Cameron Diaz Really Has Retired From Acting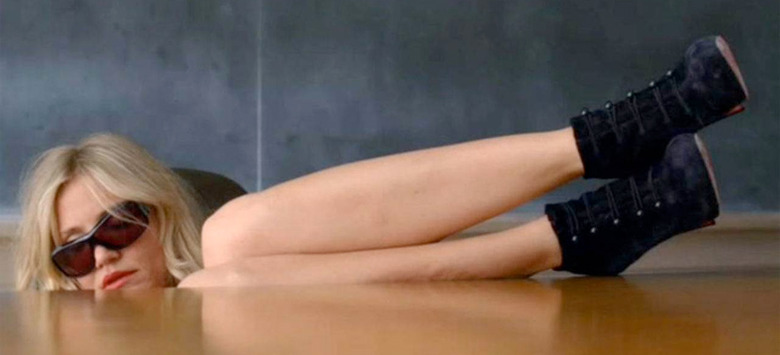 Cameron Diaz first shot onto the Hollywood scene like a beautiful firecracker in the fantasy comedy The Mask. Though she may have ultimately been overshadowed by the wild antics of Jim Carrey at maximum insanity, the role was the beginning of a successful career that would see her become a leading lady just a few years later. However, we may have seen the last of Cameron Diaz on the big screen without even knowing it.
Earlier this month, there was an interview with Selma Blair going around where the actress said that her The Sweetest Thing co-star and good friend had quietly retired from acting. However, she then came out shortly after to say that she was just joking. But now we have word from Cameron Diaz herself that she really has retired from acting.
The Initial Rumor
The news of Cameron Diaz retiring first came from a recent interview Metro conducted with Selma Blair when the topic came up about the romantic comedy The Sweetest Thing, which both actresses starred in back in 2002. Apparently the discussion turned to a possible sequel after 16 years, and that's when the topic of Cameron Diaz no longer acting came up. Blair said:
"I had lunch with Cameron the other day. We were reminiscing about the film. I would have liked to do a sequel but Cameron's retired from acting. She's like 'I'm done.'"
That would explain why we haven't seen Cameron Diaz since 2014 when she co-starred in the remake of Annie alongside Quvenzhané Wallis and Jamie Foxx. That same year she also made the R-rated comedy Sex Tape with Jason Segel and The Other Woman with Leslie Mann and Kate Upton. All of those films were critically panned, so could one bad year have turned her away from acting? Perhaps not. Blair elaborated:
"I mean, she doesn't need to make any more films. She has a pretty great life, I don't know what it would take to bring her back. She's happy. Cameron is constantly inundated with film scripts trying to tempt her out of retirement but she's just not interested. She's happy, in love and wants to make the most of her freedom and free time."
However, after this interview started making the rounds, Selma Blair posted this to Twitter:
Cameron Diaz Really Is Retired
Though Selma Blair pulled back on what she said about Cameron Diaz, it appears there might have been some accuracy in her "joke." Entertainment Weekly recently reunited the two actress along with their other The Sweetest Thing co-star Christina Applegate, and this exchange happened:
Have the three of you reunited since filming?
APPLEGATE: No!DIAZ: Goddamn it, why not?APPLEGATE: I don't know. You guys tell me. I see Selma.BLAIR: Our kids are friends. Cameron?DIAZ: Maybe I should, you know, I mean, I'm down. I'm literally doing nothing.APPLEGATE: I'm literally doing nothing, too! I'm semi-retired, I haven't worked for years. I'm a mom, that's what we do. So I'm around, man.DIAZ: That's so awesome. I'm totally down. I'm semi-retired, too, and I am actually retired, so I would love to see you ladies.BLAIR: I would love it.
Cameron Diaz married husband Benji Madden, formerly the guitarist and vocalist for the pop punk band Good Charlotte, back in January of 2015. The fact that she hasn't acted since then seems to indicate that she's much happier leading a married life without having to travel from film set to film set, especially with this casual confirmation. However, it's disappointing that Christina Applegate is semi-retired right now too.
While the life of Hollywood's top talents seems glamorous from the outside, it can be exhausting. Sure, some get paid very handsomely for their work, but it takes them away from their family and friends for far too long. Maybe Cameron Diaz will come back to acting sometime down the road, but for now, it sounds like she's focused on starting a family.