Who Would Mark Hamill Want To Play Young Luke Skywalker In A 'Star Wars' Spin-Off?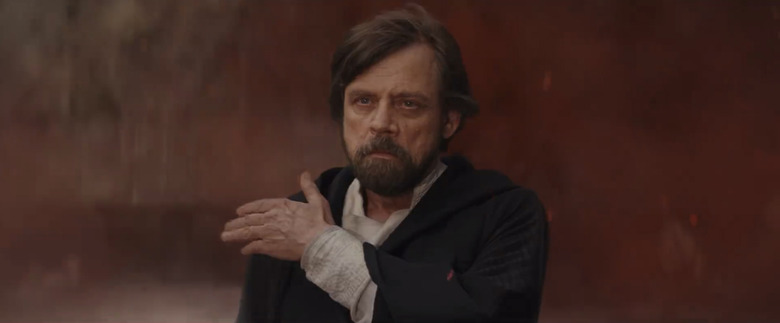 Currently, the future of Star Wars lies in expanding the franchise with two new series of movies. The Last Jedi director Rian Johnson is working on a new trilogy outside of the traditional Skywalker saga and Game of Thrones showrunners David Benioff and D.B. Weiss are working on another series of movies outside of both those arenas. There are also the ongoing chapters in A Star Wars Story that seem to be filling the gaps of the original Star Wars movies so far, including Rogue One and this year's Solo: A Star Wars Story. So is there a chance other classic characters could get their own spin-offs?
Star Wars saga star Mark Hamill was asked about the prospect of seeing a spin-off that focuses on Luke Skywalker's life before he got caught up in the fight against the Empire. Though he's not necessarily keen on the idea of that kind of prequel-esque story, he does have a wish as to who would play the young Luke Skywalker now that Hamill himself is a little too old for the gig.
Hamill spoke with Variety recently after earning a star on the Hollywood Walk of Fame, and he was asked who should play Luke Skywalker if there were going to be a movie that told us a story that we had yet to see about the farm boy turned Rebel hero.
Initially, Mark Hamill says that he likes the idea of Sebastian Stan playing Luke Skywalker, but also humbly acknowledges, he's "way more handsome than I am." Fans might agree with him, especially after this image went viral online awhile back: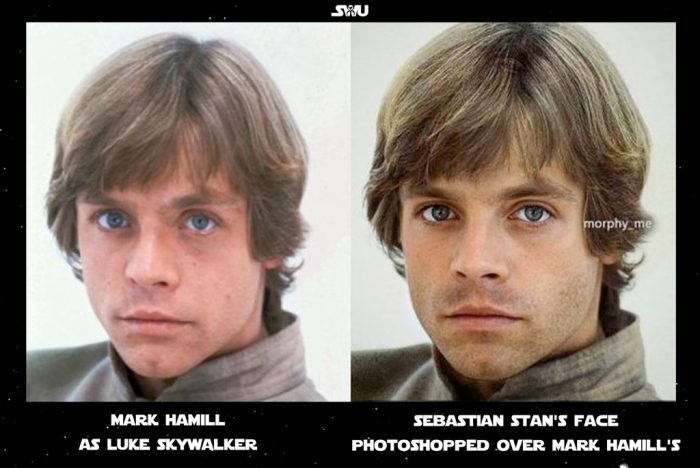 However, a Luke Skywalker prequel movie would need to star someone younger than Sebastian Stan, so what younger actor would Hamill wish to play a young version of himself? The actor says:
"Now, if they could do now where they have five or six plots and you're cutting around what's going on all around him and they keep cutting back to a really young Luke, I thought, the one I love is Jacob Tremblay."
Jacob Tremblay (Room, Wonder) is undoubtedly one of the most talented child actors working today, and he could easily pull off a young Luke Skywalker. It certainly couldn't be any worse than Jake Lloyd's turn as a young Anakin Skywalker. Though that kid certainly got more ire than he deserved, you can't say that was a good performance he put in for Star Wars: The Phantom Menace.
Please, Don't Make a Young Luke Skywalker Movie
It was a big deal for fans to see Mark Hamill return as Luke Skywalker in Star Wars: The Last Jedi last year. That's especially true after they had to wait nearly the entire length of Star Wars: The Force Awakens before seeing him pop up in the revival of the sci-fi saga. We're not sure how his involvement in Star Wars: Episode 9 will pan out, but a prequel seems like a bad idea when it comes to expanding the mythology of Luke Skywalker. Even Mark Hamill doesn't think it sounds that smart:
"It depends on what point in Luke's life that you would have him be in the movie. Because at first, I'm thinking ... the whole point of Luke was that he was bored silly with his life. All he was doing was bullseyeing wamp rats in his T-16."
Exactly. Luke Skywalker's life wasn't exciting before R2-D2 and C-3PO came into his life, setting him on a crash course to becoming a hero at the time when the galaxy needed one the most. However, there is a spin-off prospect for Luke Skywalker that could be interesting.
There's a roughly 30-year gap between the end of Return of the Jedi and The Force Awakens. While comics, books and other media have filled in some of that gap, that's a lot of time where there's probably plenty of stories that could be ripe for the big screen. If there was ever A Star Wars Story to be told about Luke Skywalker, it would be somewhere in those years. Just please, no more prequels about characters we already know and love.