This Tommy Wiseau Joker Audition Tape Is The Most Terrifying Thing You'll See All Day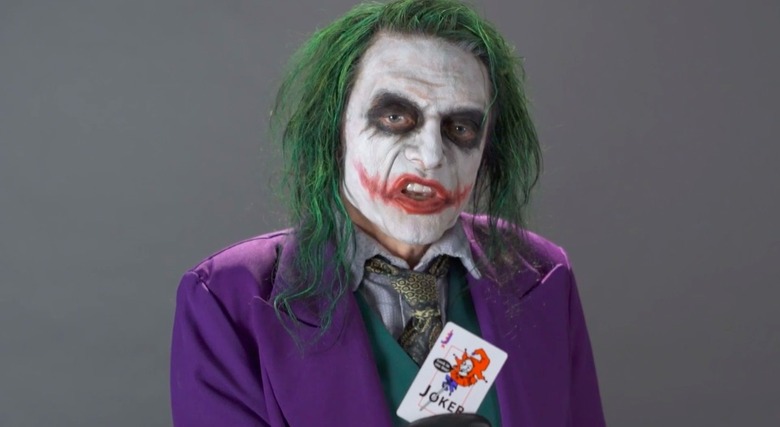 Oh hi, Batman. It's your worst nightmare.
The Room star/director/writer/producer is a multi-hyphenate of his own making, but Tommy Wiseau wants to add one more title to that list: Joker. The Hollywood curiosity has been repeatedly campaigning for the role in Warner Bros.' DC movies for months. And now, he finally gets to live his dream — sort of.
Ever since news of a Joker origin movie was announced, Wiseau has been heavily hinting to Warner Bros. and the internet that he would really, really like the part. And his fans heard his call, even mocking up a fake trailer starring Wiseau as the Clown Prince of Crime. Now, Wiseau stepped in front of the camera to audition for Batman's biggest nemesis.
Wiseau has been a beloved figure in the cult movie circuit for years, after his sincerely terrible 2003 film The Room was declared an ingenious oddity. Now, fresh off the critical and commercial success of James Franco's The Disaster Artist, a true-life comedy about which Wiseau and The Room, Wiseau is ready for another close-up.
Unfortunately, Wiseau's Mr. DeMille is just the Nerdist staff and the audition tape is just for laughs. But hey, it's fun to dream, right?
Honestly, the audition tape is incredibly fun, with Wiseau clearly giving his all during his performance. He screams, he flounders, and he's genuinely terrifying. But in a "what is this guy capable of?" kind of way. The tape becomes even more hilarious when Wiseau's longtime friend and The Room co-star Greg Sestero steps in front of the camera as Batman. Sestero co-wrote The Disaster Artist memoir upon which the movie is based.
The two of them recite lines from The Dark Knight — Sestero doing a whispery imitation of Bale's Batman voice — and generally have a great time. It's a bizarrely enjoyable video that probably won't reach the mailboxes of Warner Bros. executives, but it's all in good fun. Plus the two of them get to promote their upcoming reunion movie Best F(r)iends.
So does Tommy have a chance of becoming the Joker? Probably not, since the standalone prequel has already seemingly cast Joaquin Phoenix. But Jared Leto had better watch his back.