The Morning Watch: 'Jumanji' Edition - Visual Effects, Practical Stunts, Gag Reel & More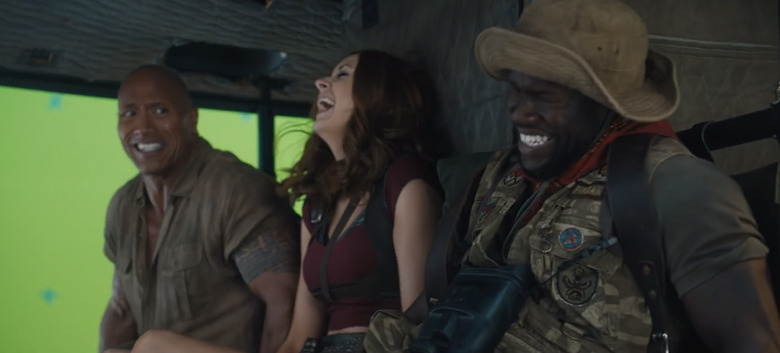 The Morning Watch is a recurring feature that highlights a handful of noteworthy videos from around the web. They could be video essays, fanmade productions, featurettes, short films, hilarious sketches, or just anything that has to do with our favorite movies and TV shows.
In this special Jumanji: Welcome to the Jungle edition, we have several featurettes going behind the scenes of the making of the film, from the visual effects to the surprisingly real stunts. Plus, there are a couple quick clips from the gag reel featuring Dwayne Johnson, Kevin Hart, Jack Black and Karen Gillan having a hard time not cracking each other up. But beware of some spoilers for the movie if you haven't seen it.
Here's a general look behind the scenes of the film with the cast of Jumanji: Welcome to the Jungle talking about working with R-rated comedy director Jake Kasdan on an action adventure intended for the whole family, straight from the set of the sequel.
One of the climactic moments of the movie was completed with a combination of heavy visual effects and, surprisingly, a practical stunt. Honestly, considering how much of this sequence looks like it was created in post-production, it's surprising to see that the motorcycle jump and grappling hook swing by Dwayne Johnson was done practically. That's pretty cool.
See how the visual effects of Jumanji: Welcome to the Jungle have improved upon those from the original 1995 adaptation of Chris Van Allsburg's children's book to allow for much more realistic jungle animals.
One of the obstacles in the story involves a dangerous Black Mamba snake, which was brought to life with a mix of visual effects and a practical, puppeteered snake on set. It's a shame they couldn't figure out a way to use the more realistic-looking snake on set in the movie instead the digital one.
Here you get to see how bazaar at the center of a prominent sequence was created. Everything from the production design to the on-set pyrotechnics is show in this glimpse at the making of this particular sequence.
Finally, below are two videos offering up some hilarious bloopers from the film featuring flubbed lines, missteps and hilarious improvised moments that crack up the cast and crew.