Sterling K. Brown Loves 'Shrek' A Little Too Much In 'Saturday Night Live' Debut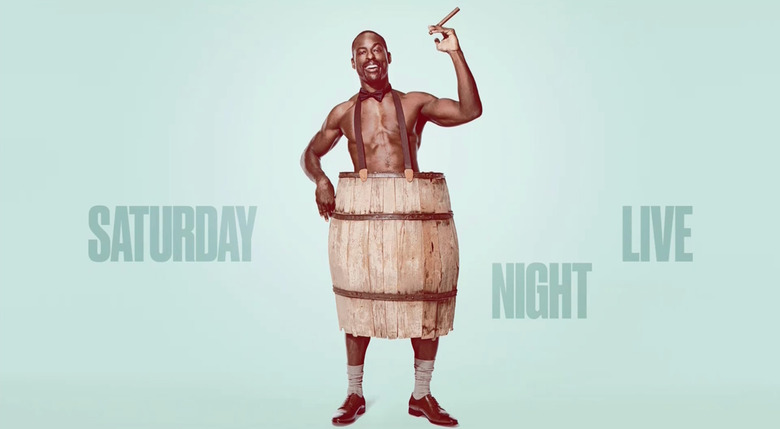 There couldn't be a better time for Sterling K. Brown to host Saturday Night Live. Aside from the fact that this NBC series This Is Us is at the height of its popularity, he also has a small role in the blockbuster giant Black Panther. Both were ripe for lampooning in the latest episode of Saturday Night Live where the award-winning actor made his hosting debut. So how did Brown fare for this first time on the live sketch comedy scene?
Let's run through the best and worst sketches from the Sterling K. Brown hosted Saturday Night Live.
The Best
Family Feud Oscars Edition – These celebrity editions of Family Feud have been hit or miss lately, but this special Oscars edition worked extremely well. Nearly all of the impressions were top notch. The only ones that didn't work all that well were Pete Davidson as Timothee Chalamet and Chris Redd as Jordan Peele. But what saved the latter was that it turned into a great meta joke about Kenan Thompson sticking around Saturday Night Live for 15 years now.
Bachelor Finale – I've never seen a single episode of The Bachelor, but the finale of the most recent episode had so many people talking that even people who stay far away from shows like this couldn't help but overhear details about what happened at the end of this season. And SNL perfectly parodies the events of that episode but cleverly (and depressingly) ties them into the ongoing events of our circus of a government. As funny as it was, it was also equally
Family Dinner – Shrek – There were a ton of movie-themed sketches from this episode, and this probably wasn't one that anyone was expecting. Sterling K. Brown gives a passionate defense of Shrek at a family dinner that takes a turn for the awkwardly worse. He does have a point though. Shrek is pretty great.
Movie Coverage – Cecily Strong continues to be the cast member who doesn't get nearly as much play as she should. This script supervisor character with a bubbly Southern drawl, abbreviating curse words and reading lines without any passion is made hilarious by Strong. But even more funny is how ludicrously profane the script for this fake movie is. It's even more extreme than a Quentin Tarantino movie.
The Average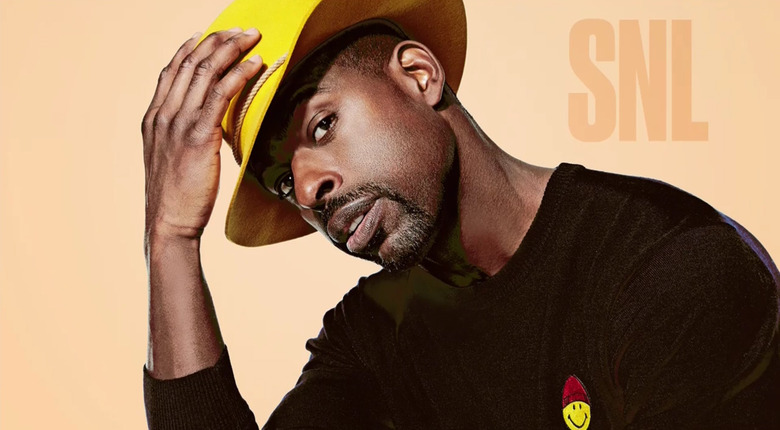 Sasquatch – This is a fantastic short film. Even if this weren't an SNL sketch, this is just an outstanding comedic short film. Mikey Day's continued, combined exasperation and desperation as the sasquatch keeps messing with him is so funny. On top of this, he keeps asking Sterling K. Brown for advice who seems to have endless information for how to deal with the bigfoot. Brown's dedication to giving a genuine performance and not just being funny also helps sell the gag.
This Is U.S. – Not only is this a great parody of This Is Us, but Sterling K. Brown does an impressions of Dr. Ben Carson that rivals that of Jay Pharoah. It's a shame this couldn't have been longer to parody This Is Us even more, if only to give us more of Ben Carson.
Black Panther New Scene – With Black Panther being all the rage and Sterling K. Brown being in the movie, you just knew SNL was going to parody the Marvel movie. In this case, we go to the spiritual plane of Wakanda where T'Challa's ancestors resides, including some of the less favorable relatives, like his uncle, played by Kenan Thompson. It's not nearly as funny as it should have been, but it was amusing thanks to Thompson's general goofiness.
The Worst
Dying Mrs. Gomez – Since this was a 10-to-1 sketch and it was clear this was going in a weird direction as soon as the first Nickelback lyrics were uttered, I wanted to like this sketch so much more. But it just doesn't go anywhere satisfying, and even though it's amusing to see this many SNL cast members singing "How You Remind Me" with Sterling K. Brown is a funny prospect, it only goes so far. Not even Brown's earnest performance can make it land more firmly.
Rock vs Rap – Kyle Mooney's Chris Fitzpatrick character has never been as funny as the first time he appeared, and this is unfortunately one of the worst yet. The interviews Mooney does with people on the street aren't as funny with this character as they are with the more awkward person on the street version of himself. While there's an interesting point to be made with this sketch, it gets overshadowed by how unfunny it is overall.
Doctor Love – At first this sketch felt like it might be going somewhere funny, but then it's almost like the writers intended to come back and finish the sketch and realized they never did. Is this supposed to be a commercial for Dr. Love the physicians? Or a new sitcom called Dr. Love? Again, Sterling K. Brown plays this character with such conviction and authenticity, but it doesn't do anything to make the sketch better.
Weekend Update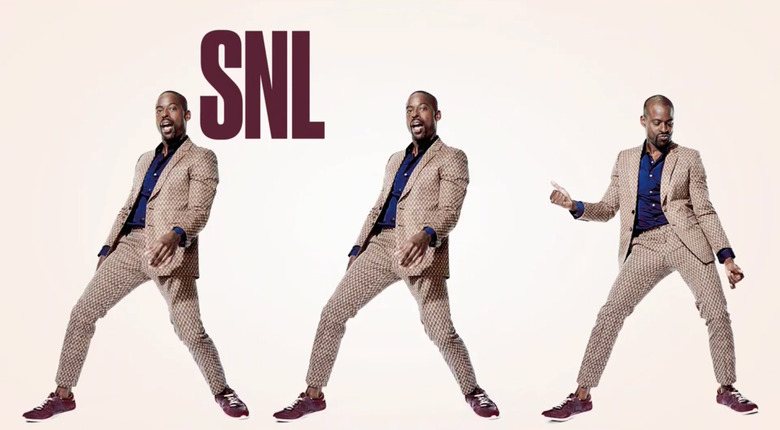 Michael Che and Colin Jost got more groans in this edition than they have before, but they were for some pretty fantastic one-liners. It's always satisfying when their jokes make each other laugh, even though each of them knows what the other one is going to say.
Eric and Donald Trump Jr. on Chaos in the White House – I will never get sick of Alex Moffat and Mikey Day as Eric and Donald Trump Jr. It's such an exaggerated mockery of these two brothers, but the way Donald Jr. talks down to the dimwitted Eric, who is so completely stupid and enamored with the simplest things.
Dawn Lazarus on Third Winter Storm – Vanessa Bayer made a surprise stop at SNL for a new weather report due to the impending third weather storm in a short period of time for the Midwest and East coast. This wasn't quite as funny as the first couple times Bayer did this character, but it was nice for her to come back for a quick sketch.
The Host
Sterling K. Brown made his hosting debut on SNL, and he proved to have the same kind of skill that the likes of Saoirse Ronan and Jessica Chastain did earlier this season. While they may not be seasoned comedians, they bring their acting skills to the table and heighten the comedy by playing it as real and not just trying to get laughs. At times he makes certain sketches a little better, even the bad ones, simply because he's so earnest on screen. I look forward to him returning as host sometime again in the future.
The MVP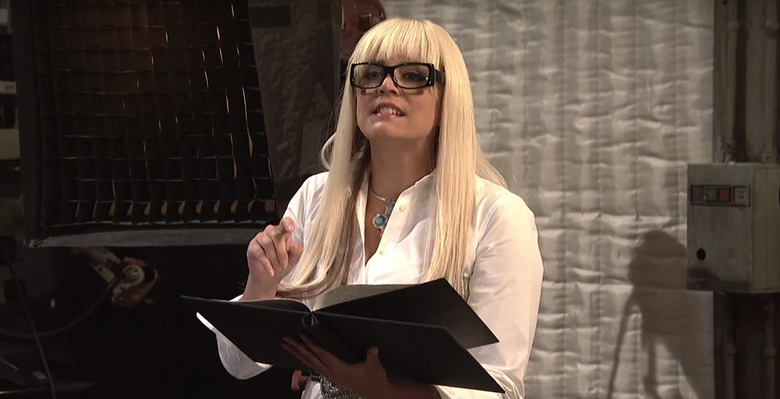 Cecily Strong (Honorable Mention: Kenan Thompson) – It was so tough for me to choose, and while Kenan had some of the stronger jokes of the night, especially in the Family Feud episode, it was Cecily Strong who had the more prominent and consistent performance. That cold open especially showed that she can be funny by playing it straight and letting the premise do the heavy lifting while staying true to the emotion of the scene to bring the comedy more strength.
The Final Word
This was certainly better than last weekend's disappointing Charles Barkley episode, and a return to form for the writers. Hopefully they can keep the momentum going when Bill Hader returns to Studio 8H to host for the second time since his departure from the cast. It's the St. Patrick's Day episode too, so that should bring some holiday fun.
We'll be back with a review after Bill Hader hosts on March 17.