'Captain Marvel' Is Taking Cues From '90s Action Films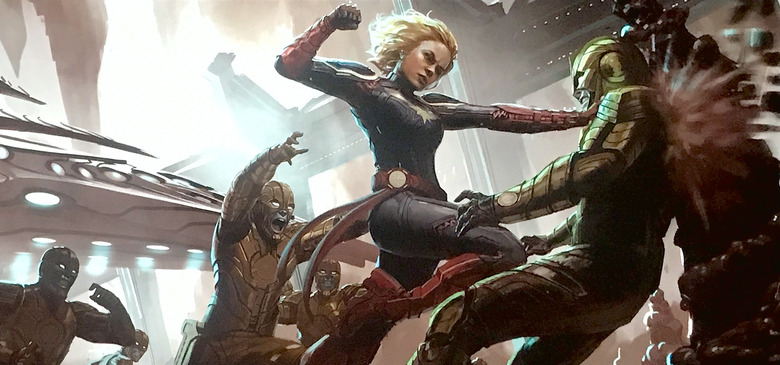 Black Panther is still the talk of the town, but in less than two months, Avengers: Infinity War will dominate the box office by beginning the culmination of the first 10 years of the Marvel Cinematic Universe. But that's just the beginning of this big screen finale. We still have Ant-Man and the Wasp arriving later this year too. But it's the first Marvel Studios movie of 2019 that has fans even more excited.
Next year, fans will get to see Captain Marvel hit the big screen. The film takes the Marvel timeline back to the 1990 and sees Brie Larson (Room, Kong Skull Island) as the lead character, a pilot named Carol Danvers, who is endowed with alien superpowers and becomes the first superhero who Nick Fury ever encountered. Marvel Studios boss Kevin Feige recently discussed what fans can expect from the first in a new franchise for Marvel Studios, and if you're a fan of '90s action movies, you're gonna like the Captain Marvel details he offers up.
When Nick Fury Met Carol Danvers
During an interview with Entertainment Weekly, as part of their massive ongoing coverage of the upcoming Avengers: Infinity War, Feige was asked how the 1990s setting of Captain Marvel opens up new storytelling in the Marvel Cinematic Universe. Feige said:
"We wanted to explore a period before Samuel L. Jackson's Nick Fury had any idea about any of the other heroes and crazy stuff going on in the world. You know, we first met Nick when he told Tony, "You're part of a big universe. You just don't know yet." Well, we want to go back to a time when he didn't know it yet, and really showcase and announce that Carol Danvers was that first hero that Nick came across. That meant she could be the singular hero, but place it within timing of the MCU."
We've heard before that this movie takes place at a time when Nick Fury still had both of his eyes. So we won't see Samuel L. Jackson donning an eye patch. But is there a chance we might learn how he ended up losing an eye? It's certainly a possibility, but nothing has been confirmed.
Captain Marvel Was Influenced by Terminator 2
In addition to opening up the Marvel Cinematic Universe to a different time period, even moreso than the flashbacks to the 1990s from the likes of Captain America: Civil War and Black Panther, the film will continue to allow Marvel to explore different genres. Feige explains:
"It also got us talking about different genres, exploring this notion of sort of the '90s action film. We hadn't necessarily done anything like that before either, so there are definitely homages to our favorite '90s action films within Captain Marvel."
When asked which '90s movies might influence Captain Marvel, without giving any story details away, Feige said:
"Not necessarily talking about any particulars of the story, but the action elements of Terminator 2. That's about as iconic as you get, looking at kind of those cool street level fights, street level car chases, and fun stuff like that."
However, simply because they're looking at a relatively earthbound sci-fi action movie as a reference point doesn't mean it will bring us the same kind of story. Because as Feige followed up, "Much of the movie takes place in outer space, as you might think a Captain Marvel movie would. Like all of our genre inspirations, there are bits and pieces here and there."
It's good to hear that Captain Marvel will take Marvel Studios in new directions, especially with a duo like Anna Boden & Ryan Fleck behind the camera. Since most of the movie takes place in space, it's likely that it will help expand the Marvel Cinematic Universe for whatever Kevin Feige has in store for the next 10 years of movies. We know he's been working closely with James Gunn to have Guardians of the Galaxy Vol. 3 help set those movies up, but surely Captain Marvel will have a place in setting the stage as well.
Captain Marvel hits theaters next year on March 8, 2019.