Cool Stuff: 100% Soft's Kaweidoscopes Art Series Is Adorable And Trippy As Hell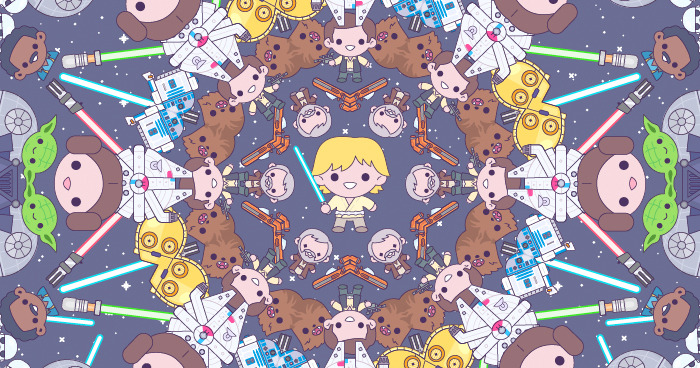 One of the most unique and unmistakable pop culture artists working today is 100% Soft. His adorable illustrations have brought cute flair to our favorite movies and television shows. His artwork is so delightful that the likes of Marvel Studios and Lucasfilm commissioned him to create the little emojis that appear on Twitter with certain character and title hashtags.
For his latest project, 100% Soft is getting a little trippy with his signature art style. The Gallery 1988 show Kaweidoscopes features 100% Soft's familiar character designs, but in a symmetrical, circular pattern as if they were being viewed through a kaleidoscope. Not only are there regular prints of these new pieces, but there are also lenticular versions that make them all the more trippy.
Here are our favorite pieces from 100% Soft Kaweidoscope prints from Gallery 1988:
Each of these prints will cost you $40 (or $80 if you want to buy them framed). They measure 16x20 inches and each has an edition of 30, signed and numbered by the artist himself. There's also a Twin Peaks print, but it's already completely sold out. Meanwhile, music fans might want to check out the prints dedicated to David Bowie and Prince.
All of the prints above also have lenticular versions that appear as if they're moving as you change the angle at which you're looking at the image. However, they're considerably more expensive at $450 each. They measure 18x24 inches and have an edition of 20.
You can see all the available 100% Soft Kaweidoscope prints right now over at Gallery 1988.