'Show Dogs' Trailer: Farting, Talking Dogs To The Rescue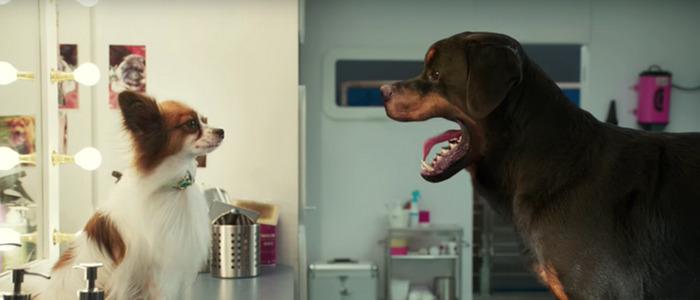 There's a Bible verse in the Book of Revelation that states, "And when he had opened the seventh seal, there was silence in heaven about the space of half an hour, and the Show Dogs trailer appeared." That time is now, folks. The end is nigh. The new Show Dogs trailer is here.
Show Dogs! It's a movie about talking dogs, and also Will Arnett! The new Show Dogs trailer features a rapping dog, a farting dog, some pigeons, and some other digitally rendered stuff. I passed out and banged my head against my desk while watching it, so I don't remember all the details. Let's rewatch it together, shall we?
Show Dogs Trailer
Alright, let's break down some of the shenanigans going on in this trailer.
Will Arnett argues about the radio with a talking dog.
Will Arnett doesn't seem even slightly alarmed that the dog can talk.
The dog, Max, bites a guy's butt.
A CGI panda appears in a cage.
Dogs drink out of toilets.
Some ditzy pigeons show up.
The trailer announcer says "doodie calls!" and Max farts into a tub.
Max gets a bikini wax.
A Pomeranian (I think?) relaxes in a hotel bed with cucumbers over his eyes.
Max and another dog partake in some zip-line fun.
Honestly, who doesn't want to see a film like this? Let me put it this way: I love dogs. I love dogs more than I love people, in fact. And yet even I won't be watching Show Dogs.
One thing I noticed from this trailer: the plot – a cop who goes undercover at a pageant to stop a crime – is lifted directly from the Sandra Bullock comedy Miss Congeniality. The big difference here is that the cop in question is a dog. So Show Dogs is essentially Miss Congeniality With Dogs. What a golden age of cinema this is!
In addition to Arnett, Show Dogs features Chris "Ludacris" Bridges, Natasha Lyonne, Jordin Sparks, Gabriel Iglesias, Shaquille O'Neal, Alan Cumming, and Stanley Tucci. The film hails from director Raja Gosnell, who has a history with talking-dog movies, having helmed Beverly Hills Chihuahua, and the Scooby-Doo films. Gosnell also directed The Smurfs, Big Momma's House and Never Been Kissed. Quite a career!
Show Dogs opens on May 18, 2018.
SHOW DOGS is a family comedy about the unlikely pairing of a human detective (Arnett) and his canine partner (voice of Chris "Ludacris" Bridges), who has to go undercover at the world's most exclusive dog show to solve his biggest case yet.