'Game Over, Man!' Trailer: The 'Workaholics' Gang Gets Their Own 'Die Hard'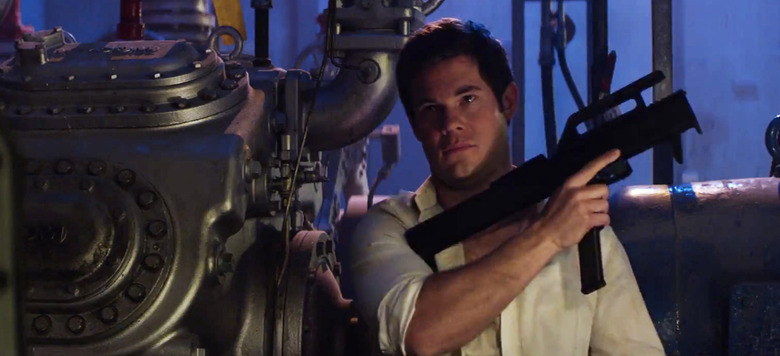 With Netflix releasing over 700 new original movies and TV programs throughout 2018, they've got tons of stuff to unveil every week. Later this month, we'll be getting a new comedy by the gang from Comedy Central's series Workaholics.
Game Over, Man! is a new action comedy starring Adam Devine, Anders Holm, and Blake Anderson as waiters at an high-rise hotel who get caught up in dangerous sitaution when terrorist busts into an upscale party, takes hostages and demands a hefty sum of money for them to be rescued. It's up to these three hotel employees to save the day, and as the new Netflix Game Over Man trailer shows, they're not exactly a trio of John McClanes.
Watch the Netflix Game Over Man Trailer
The trailer is undoubtedly a showcase for the hilarity brought to the table by the stars of Workaholics, not to mention series creator Kyle Newacheck, who is directing the movie. But it also shows off some of the supporting cast as well. Fellow Workaholics star Jillian Bell shows up, and Fred Armisen is involved in the hostage situation as well. Plus, Adam DeVine's Pitch Perfect co-star Utkarsh Ambudkar appears with a cute little dog.
For me, the biggest problem this movie has is that the villain doesn't seem like much of a substantial threat. That's a big problem with the villain in most comedies. In this case it's Neal McDonagh as the terrorist, and while he does a decent enough job as Damien Darhk in the Arrowverse, he doesn't seem all that intimidating here.
Hopefully, this doesn't just feel like a big budget fantasy episode of Workaholics, even though that's certainly what it looks like. There are some solid jokes and gags here, but it does have that Netflix quality to it, where it doesn't feel like it quite measures up to a big budget studio comedy you might see in theaters, like a 21 Jump Street or a Tropic Thunder.
Here is the official synopsis for Game Over, Man!:
Three friends must level-up and become heroes when their workplace, a Los Angeles hotel, is taken hostage by evil gunmen seeking a large ransom. Game Over, Man! is a dangerous comedy from the creators of Workaholics starring Adam Devine, Anders Holm, and Blake Anderson.
Game Over, Man! will be released on Netflix on March 23, 2018.