LOL: 'Drunk History' Celebrates Fred Rogers' Historic Victory For Public Television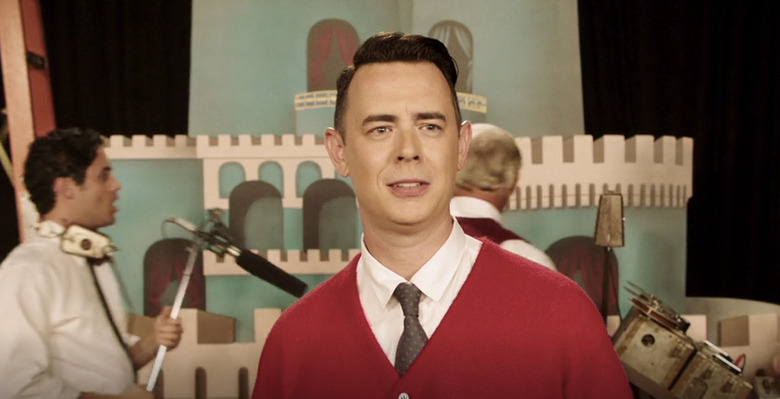 This year marks the 50th anniversary of the premiere of the children's television program Mr. Rogers' Neighborhood. The PBS program debuted in February of 1968 and would run for roughly 30 years, educating several generations of children. But at one time, the legacy of his program was threatened by budget cuts proposed by President Richard Nixon.
Drunk History recently had an episode where comedian Solomon Georgio tells host Derek Waters the abridged inebriated story of how Fred Rogers came to be a children's television host and ended up sitting in front of congress for one final plea to allow public television to keep their funding so they can continue to teach children important values and life lessons. In honor of the 50th anniversary of Mr. Rogers' Neighborhood, you can watch the full segment below.
Watch the Drunk History Mr Rogers Neighborhood Segment
Not only is Solomon Georgio a great drunken storyteller, but this segment is special for another reason. It features Colin Hanks in the role of Mr. Rogers, which is amusing because his father Tom Hanks recently landed a role playing Mr. Rogers in a feature film. Even though the film starring Tom Hanks could end up going on to the Oscars some day, we can almost guarantee it won't be as funny as this segment.
The focus is on the session of congress where Rogers famously convinced a subcommittee to change their mind about cutting the funding for public television. He gave a passionate, eloquent, wonderful speech and was able to change the heart and mind of Senator Pastore (played by Anchorman co-star David Koechner). We're pretty sure he didn't swear as much as Solomon Georgio, but whatever. You can see the real record of the subcommittee meeting right here:
Don't forget there's a Mr. Rogers documentary called Won't You Be My Neighbor? coming out this summer. We saw it at Sundance and gave it a rave review, so make sure you check it out.