John Travolta Will Stalk Devon Sawa In Thriller From Director Fred Durst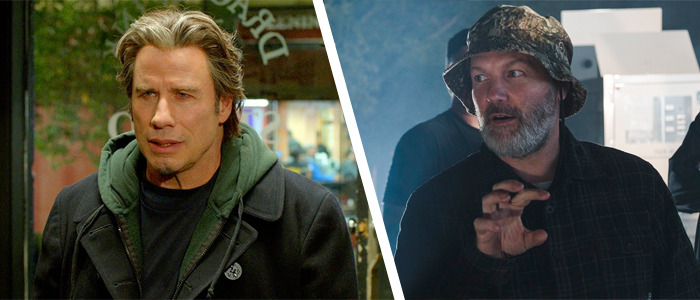 Though you may remember Fred Durst from his days as the front man for the rap rock group Limp Bizkit, you may not know that Durst has dabbled in being a director. In addition to directing music videos for his own band, as well as videos for Korn and Staind, he's also went behind the camera for the comedy The Longshots and the indie drama The Education of Charlie Banks. Now, he has a new thriller on the way that is inspired by a certain event from his Limp Bizkit days.
Fred Durst is currently down in Alabama with cameras rollin', rollin', rollin on a thriller called Moose, which was inspired by a real-life fan who stalked the musical artist during his more popular days. John Travolta will play the stalker, but his target isn't a red cap-wearing rap rocker.
Variety has word on Moose, which sees John Travolta as the titular character, a movie fan who has a dangerous obsession with a celebrity action hero. What starts off as a simple fixation turns into an ambition to destroy the star's life. What's interesting is that Devon Sawa, famous for playing the Eminem fan "Stan" from the rapper's famous track off The Marshall Mathers LP, is playing the action hero.
Durst hasn't really had a breakout film as a director or writer yet, but there's a chance this could be it. After all, John Travolta is creepy enough in real life that him playing a stalker isn't too much of a stretch. It could be a mesmerizing performance, or at the very least an unsettling one. Would that be enough for you to seek about a Fred Durst John Travolta movie?
Durst wrote the script with Dave Bekerman based on his own life experiences. Media Finance Capital and Amibi Media Group is financing the movie, with Andrea Iervolino and Monika Bacardi producing for the latter. Oscar Generale and Daniel Grodnik of Wonderfilm Media are also producing. David Gilbery and Charles Dorfman are acting as executive producers for Media Finance Captial, joined by Richard Salvatore, Kirk Shaw, Bret Saxon, and Jeff Bowler.
Travolta is actually fresh off working with Ambi Media Group on a stock car racing drama called Trading Paint. That movie is in post-production, but we haven't heard much about it. Hopefully, these movies turn out to be more than just straight-to-video fodder, but we'll have to wait and see.