'Home Improvement' Reboot ''Has Been Floated,'' Says Tim Allen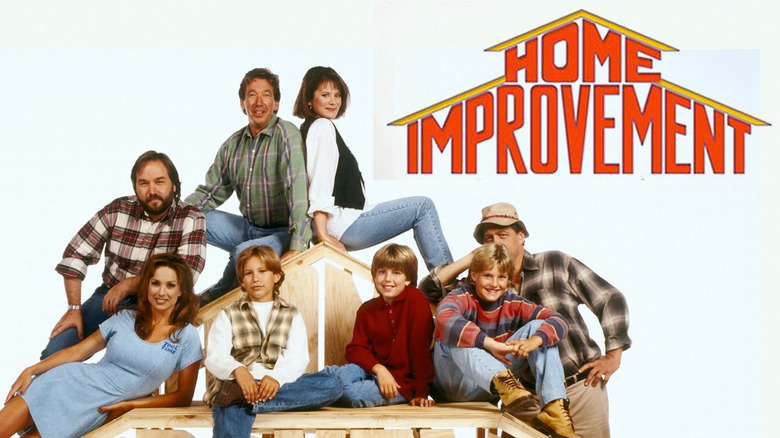 Later this month, we'll see Roseanne return to ABC with a series revival that brings back the entire cast from the original sitcom. This opens the door for the network to possibly revisit some of their other beloved shows from the 1990s, and one of them might be Home Improvement.
Led and inspired by comedian Tim Allen, Home Improvement aired from 1991 to 1999. The series followed Tim "The Tool Man" Taylor, the host of a hardware and fix-it-all TV show and the patriarch of a family with three sons (Zachery Ty Brian, Jonathan Taylor Thomas and Taran Noah Smith) and an extremely patient wife (Patricia Richardson). Are they all ready to come back for a Home Improvement reboot? Tim Allen says the possibility "has been floated." Find out more below.
Speaking to Entertainment Tonight, Tim Allen was asked about the chances of bringing back Home Improvement now that Roseanne is coming back on March 27. Hers's what Allen had to say:
"I can't say everybody, but it has been floated. And more than I would have expected said, 'Yeah, that would be cool to do it years later,' like Roseanne. I like that idea."
Much in the way that Roseanne star Sarah Gilbert took the lead in getting the entire cast rounded up to come back for the Roseanne revival, Tim Allen has hinted that he might take the lead in rounding up as many people as possible. But as Allen said, it doesn't sound like everybody would be on board. So who might not be interested in coming back?
Who Might Not Come Back?
Since Patricia Richardson and Jonathan Taylor Thomas guest starred on an episode of Tim Allen's most recent TV effort, the ABC sitcom Last Man Standing, back in 2015, they're likely happy to return for a Home Improvement revival. So it's probably safe to say they wouldn't be among the holdouts.
Then there's Zachery Ty Brian. He hasn't done any television acting since 2009, so there's always a possibility that he's done with the spotlight. But apparently, he has a role in a project called Gods and Secrets, which is due out sometime this year, so he might not be as done with acting as his résumé would indicate.
As for Taran Noah Smith, he hasn't done any acting since Home Improvement. Instead, he got caught up in a couple controversies, including suing his parents for control of his trust fund and marrying a 33-year old vegan chef when he was just 17. It's been said he lives on a sailboat off the coast of California now, so maybe he's not quite up for getting back in the acting scene.
Let's not forget Richard Karn, who play Tim Taylor's cautious co-star Al Borland. He's been acting steadily since Home Improvement, albeit mostly in straight-to-video garbage with some guest starring roles on TV shows here and there, including Tim Allen's Last Man Standing. Joining him would likely be Debbe Dunn, who played the helpful Tool Time assistant Heidi on the series.
Sadly, one face (or half-face) that would not be returning for a Home Improvement reboot would be Earl Hindman as Tim's wise, helpful neighbor Wilson. We only ever saw half of the man's face, even when the Taylors went over to his house for dinner during a touching episode. Sadly, Hindman passed away back in 2003. But maybe Wilson's son could live next door?
Does Anyone Want a Home Improvement Revival?
Tim Allen doesn't exactly have the same fanbase that he did back in the 1990s. If anything, he's become a little more controversial due to his political opinions. That might keep a Home Improvement reboot from being as desired as it once would have been.
Tim Allen has stirred the pot with some controversial comments about the current political landscape being responsible for the cancellation of his show Last Man Standing. The series followed a conservative father dealing with the more liberal opinions of his wife and daughters. It often featured politically incorrect humor being spouted off, the kind of one-liners your inappropriate aunt and uncle might laugh at in between Fox News sessions, and he thought that was the reason the show ended up canceled. Allen said on Norm MacDonald Live:
"There's nothing more dangerous to me, especially in this climate, than a funny, likable conservative. That was the most dangerous thing," Allen said. "Because he was mitigated on his show by a family of women that had different opinions — but the guy was a likable guy, a principled guy, just about work and ethics and all this stuff. I think there's nothing more dangerous now than a likable conservative character."
Home Improvement never dabbled in political discussions, but one has to wonder if Tim Allen would try to bring some of that flair to a revival as a way of appealing to his fanbase who might have been sad to see Last Man Standing go. We'll find out if this Home Improvement reboot ever moves forward. In the meantime, you can watch all the old episodes of Home Improvement on Hulu now.
And now, we'll leave you with this slice of nostalgia: