'Luke Cage' Season 2 Trailer: Sweet Christmas Comes Early With Explosive Teaser And Release Date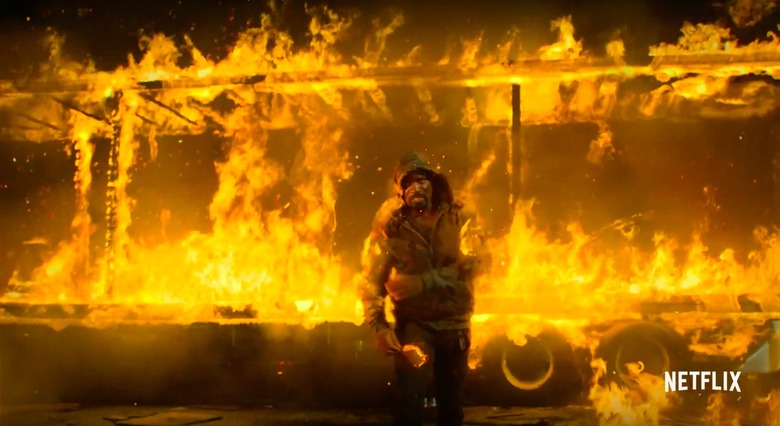 The bulletproof hero of Harlem is back.
In the second season of the Marvel Netflix series, Luke Cage (Mike Colter) learns just what it means to be the neighborhood hero, earning new allies but also new villains. The Luke Cage season 2 trailer — more of a teaser really — is here to get you pumped about his return.
Luke Cage Season 2 Trailer
"You can't burn me, you can't blast me, and you definitely can't break me," Luke Cage proclaims to the camera in the teaser. "Wanna test me? Step up. I'm right here."
Luke Cage is a hero, and proud of it. Now that he's cleared his name and saved Harlem, the ex-con and indestructible Defender must shoulder the responsibility of all that celebrity. Thankfully he has the fifth Defender Claire Temple (Rosario Dawson) and former police detective Misty Knight (Simone Missick, now equipped with a bionic arm) at his side. And maybe Iron Fist (Finn Jones), too.
Entertainment Weekly supplied some first look at images from the premiere of Luke Cage season 2. Here are a few of them.
Season 2 of Luke Cage will arrive three months after the sophomore outing of fellow Marvel series Jessica Jones, which premieres on Netflix on March 8. It's fitting, considering Luke was first introduced in Jessica Jones as an enigmatic love interest. However, it's unlikely the two of them will cross paths with each other in either series.
The first season of Luke Cage couldn't hold a candle to the sharp and compelling Jessica Jones. Luke Cage had a promising beginning, but it devolved into a narrative and tonal mess thanks to an unimpressive final villain. While both series have a handle on powerful political messaging, Luke Cage stumbled in its treatment of issues of crime and police brutality (at one point, I think it condones police militarization?). Hopefully, Luke Cage season 2 will be a vast improvement. And if its fiery teaser trailer is anything to go by, I think it will.
Here is the official synopsis for Luke Cage season 2:
After clearing his name, Luke Cage has become a celebrity on the streets of Harlem with a reputation as bulletproof as his skin. But being so visible has only increased his need to protect the community and find the limits of who he can and can't save. With the rise of a formidable new foe, Luke is forced to confront the fine line that separates a hero from a villain.
Luke Cage season 2 will premiere on Netflix on June 22, 2018.