New Judd Apatow MasterClass Teaches Story Structure, Stand-Up & The Art Of Laughter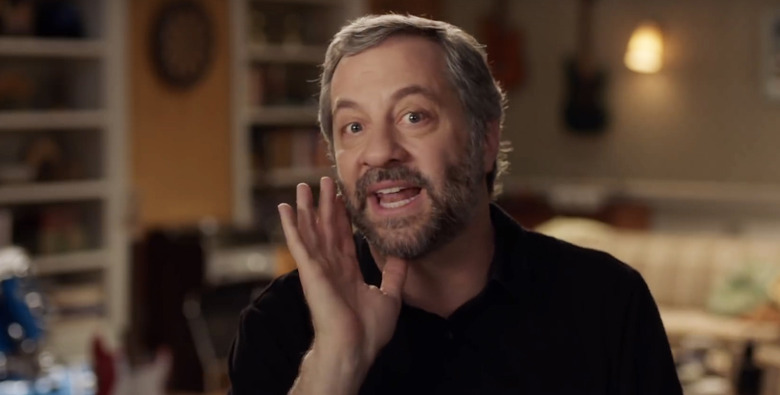 The MasterClass subscription series has an incredible collection of some of the most iconic and respected minds and talents in various fields. But their assembly of talent from film and television is especially impressive. The likes of Martin Scorsese, Steve Martin, David Mamet, Hans Zimmer, Shonda Rhimes, Aaron Sorkin and Ron Howard all have their own MasterClass, and now one of the most successful names in comedy does too.
The Judd Apatow MasterClass brings the director, writer and producer of some of the most successful comedies of the past 20 years (The 40-Year Old Virgin, Knocked Up, This Is 40, Trainwreck) in to teach you how to think about comedy. You might think it's impossible to learn how to be funny, but maybe you're just not looking at comedy from the right perspective. Watch the Judd Apatow MasterClass trailer to see what he's going to teach you.
Watch the Judd Apatow MasterClass Trailer
Here's what Judd Apatow intends to teach you in this class:
Find comedic inspiration
Mine your life for material
Outline and structure stories for film and TV
Write stand-up material
Write comic dialogue
Pitch projects to studios and networks
Work with actors
Navigate the entertainment industry
That's a pretty great line-up of lessons. Perhaps the two most interesting ones for aspiring writers and filmmakers will be about pitching projects to studios and networks and merely navigating the entertainment industry. Plenty of people think they know how it works behind the scenes, but it's infinitely more complicated and maddening than that.
The comedic lessons will be invaluable too. Some of these lessons you learn with time and with seeing other comedians and getting perspective from fellow artists and audiences. But it's good to have a place to start and to have guidance when you're still trying to figure it out. But being "good" at comedy is something that takes years of practice, and any comedian will tell you that.
Our own Chris Evangelista took the time to subscribe to the Martin Scorsese MasterClass, and he said, "If you're interested in filmmaking, this is great, and if you're a huge fan of Scorsese, as I am, it's even better." Even if you're not looking on how to make a film, this is a fascinating series to watch, because as Chris notes, "Scorsese isn't telling you how you should go about making a film; instead, he's telling you how he approaches filmmaking personally. This is less a class about filmmaking than it is a class about Scorsese's brand of filmmaking."
So for anyone who is a comedy fan or loves Judd Apatow's work, this should be well worth it. You can take the Judd Apatow MasterClass for $90 at their official website. You can also pay $180 for a year of access to all their classes.