12 Essential Stop-Motion Animated Movies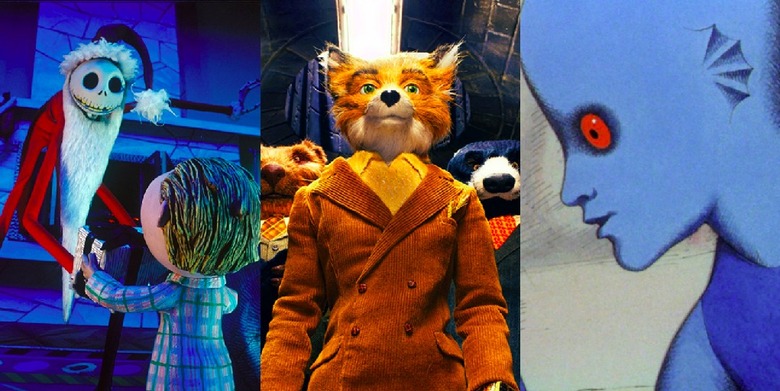 (Welcome to Let's Get Animated!, a column that spotlights the best of film animation. In this edition: here are the most essential stop-motion animated movies.)
Stop-motion animation is largely seen as a quaint relic. An animation style that has roots in the earliest days of cinema — the first reported film to use stop-motion animation was Vitagraph's lost 1897 film Humpty Dumpty Circus. Stop-motion would remain at the cutting edge of movie-making, central to special effects used in live-action movies like Star Wars, and winning mainstream popularity at the height of the animation renaissance in the '90s.
Stop-motion animation is the manipulation of any physical object — ranging from paper cutouts, puppets, Lego bricks, and yes, clay. It's one of the most tedious formats you can imagine, requiring hours to set up a simple one-minute shot. But despite the domination of CG animation in the past decade, stop-motion is here to stay. Just look to this year's Berlinale darling, Isle of the Dogs, and the latest Aardman film Early Man.
Here are the most essential stop-motion animated movies.
The Nightmare Before Christmas
The Nightmare Before Christmas is the seminal stop-motion animated movie. And it's the film most people immediately go to when they think of stop-motion. Directed by stop-motion visionary Henry Selick and produced and conceived by Tim Burton, The Nightmare Before Christmas is a 1993 musical that follows Jack Skellington, the Pumpkin King of Halloween Town who becomes obsessed with Christmas after he accidentally stumbles upon Christmas Town. To share his newfound fascination with Christmas, Jack kidnaps Santa Claus and brings him to Halloween Town, upsetting the entire fabric of the holidays.The Nightmare Before Christmas was a passion project from Burton, first pitched to Disney as a TV special, but rejected for being too "weird." But after the success of his equally stop-motion short film Vincent in 1982, he got the OK from Disney. And after nearly three years of painstaking production and 227 puppets, The Nightmare Before Christmas was released. The result: A delightfully macabre fantasy that toes the line between ghoulish and gorgeous.
Kubo and the Two Strings
Kubo and the Two Strings may be one of the most beautiful stop-motion films in recent memory. Inspired by the style of Japanese origami and ink wash painting, the 2016 film is a unique blend of clay models, 3D printing, and paper. It's certainly one of the most ambitious stop-motion animated movies in the past decade. Kubo and the Two Strings hails from the innovative animation studio Laika, which has proven to be an exciting new pioneer in the dusty old genre.Kubo and the Two Strings is an epic fable that follows a young one-eyed storyteller named Kubo who lives in hiding from his evil aunts and the Moon King. Every day, Kubo wields his magical shamisen (a traditional Japanese string instrument) to bring origami figures to life in thrilling tales that entertain the local villagers. But one day, Kubo accidentally stays out after dark despite his mother's pleas, and attracts the attention of his witchy aunts, who attack him and kill his mother. Forced to go on the run, Kubo embarks on a mission to defeat the Moon King. An astonishingly original narrative that lavishly plays homage to the Japanese culture that inspired it, Kubo is an awe-inspiring movie that tests the limits of stop-motion animation.
The Adventures of Prince Achmed
Not only is The Adventures of Prince Achmed the oldest surviving stop-motion animated movie, it's the oldest surviving animated film in history. The 1926 German animated fairy tale by animation legend Lotte Reiniger predates Snow White and the Seven Dwarfs by 10 years. And it doesn't get enough credit.
The enchanting silent film is the pioneer of silhouette animation, a technique invented by Reiniger that involves manipulating cardboard cutouts and thin sheets of lead under a camera. It's not dissimilar from the ancient Indonesian practice of Wayang shadow puppetry.
Loosely based on stories from One Thousand and One Nights, Prince Achmed follows a dashing hero on a flying horse who braves all manner of obstacles — witches, demons, and even Aladdin — to win a princess' heart. It's a simple, almost seductive fairy tale brought to life with dainty, intricate silhouettes in an utterly mesmerizing film.
Wallace and Gromit & The Curse of the Were-Rabbit
Aardman Animations' name is synonymous with Claymation, and it's largely thanks to their most beloved franchise, Wallace & Gromit. Before the goofy inventor-dog pair got the feature film treatment, they were the stars of popular short films that turned them into British cultural icons.
Aardman is known for its exaggerated and warm stop-motion clay animation style — as if comic strip characters had simply walked off the page. And 2005's Wallace and Gromit & The Curse of the Were-Rabbit is the epitome of that style. The movie follows the eccentric cheese-loving inventor Wallace and his intelligent, mute dog Gromit as they fend off a growing infestation of rabbits before their village's annual vegetable competition. But an invention goes awry, and shenanigans ensue. Wallace and Gromit is a vaudeville comedy meets newspaper comic strip, and a must-see for any stop-motion fanatic.
Fantastic Planet
This psychedelic French film uses cutout animation to tell a truly otherworldly story. Fantastic Planet is a 1973 science-fiction film adapts Stefan Wul's novel Oms en serie, which tells the story of a distant planet where humans are a lesser, diminutive species on a planet ruled by ethereal beings called Traags. Humans are a nuisance at worst, pets at best to the giant Traags, who tower hundreds of feet over the humans that they call "Oms," a homophone of homme (the French word for "man").
The story of oppression and the power of technology recalls sci-fi epics like Dune and Planet of the Apes, but the avant-garde art style of the cutouts is more along the lines of Salvador Dali. The 71-minute film is truly a trip that could not have been replicated in traditional animation.
Coraline
Laika's first and most beloved feature film, Coraline blends the nightmarish qualities of the Neil Gaiman book upon which it was based with the accessibility of stop-motion animation. But like its dark and disturbing story, Coraline's warm animation style is just a veil for the horrors that lie beneath.
Coraline marked Henry Selick's return to the medium — his first fully stop-motion feature film since The Nightmare Before Christmas (unless you count the 1996 hybrid live-action/stop-motion James and the Giant Peach). And what a return it was.
Released in 2009, Coraline is a fantastical story of a petulant young girl who resents her parents for moving them to a creaky house in the middle of nowhere. Frustrated with the boring neighborhood, wacky neighbor boy, and dreary parents, Coraline stumbles on a portal to an alternate mirror reality that seems so much better than her own. Except that everyone has creepy button eyes. The alternate world turns out to be more sinister than she imagined, and Coraline is left fighting for her life. Coraline blends the best of Selick's whimsy and weirdness, giving the childhood adventure movie a macabre edge.
Fantastic Mr. Fox
Wes Anderson's first stab at animation is a masterpiece. Based on Roald Dahl's children's book of the same name, Fantastic Mr. Fox follows a trickster fox who retires from a life of stealing poultry to settle down with a family. But the call of the wild is too strong, and the titular Mr. Fox returns to a life of petty theft, targeting the three mean farmers nearby. But his crimes catch up to him, as the farmers vow vengeance, driving Mr. Fox's family — and eventually the entire local wildlife community — underground.
Fantastic Mr. Fox is so...fantastically wry that it's amazing that Anderson never tackled animation before. The kooky director has a knack for blending childlike wonder with adult humor, and stop-motion animation proves to be the perfect outlet for Anderson.
Jason and the Argonauts
I couldn't talk about stop-motion animation without mentioning Ray Harryhausen. The visual effects maestro famously pioneered special effects as a form of stop-motion modeling called "Dynamation." This seamlessly blended live-action actors and stop-motion models through split screen.
Harryhausen was behind the award-winning effects of 1949's Mighty Joe Young, 1958's The 7th Voyage of Sinbad, and 1981's Clash of the Titans — and would prove to be a huge influence on later blockbusters like Star Wars. But his most famous feats of stop-motion effects can be seen in the sword-and-sandals epic, Jason and the Argonauts.
An adaptation of the Greek myth, Jason and the Argonauts was a 1963 film whose stunning stop-motion scenes would transcend the movie itself. Yes, I'm talking about the skeletons. The scene where our hero Jason battles an army of resurrected skeletons is a thrilling technological wonder. There's none of the sluggishness of previous stop-motion battles — instead, the grotesque skeletons advance on and demonstrate whip-smart sword skills in a breathtaking fight scene.
Anomalisa
Another acclaimed live-action director takes a gander at animation with Anomalisa, Charlie Kaufman and Duke Johnson's quietly soul-crushing drama. Probably the most "adult" of all the entries on this list, Anomalisa tells a relatively mundane story about a middle-aged man searching for meaning in an affair with a lively young woman. It's nothing we haven't seen before, but rendered as stop-motion puppets, Anomalisa feels revolutionary.
The listless main character, Michael Stone, is an inspirational speaker who perceives everyone he meets to have identical faces and voices. That is, until he meets a young woman who sounds and looks like no one he has known. They start a brief affair, until the woman's habits begin to frustrate him, and her face eventually morphs into the identical one that everyone else shares. It's an unsettling way of portraying depression, and feels like a natural progression of Kaufman's trippy, poignant catalogue.
My Life as a Courgette
This slice-of-life stop-motion animated movie offers a little slice of humanity. My Life as a Courgette is a 2016 French animated film that depicts a troubled orphan as he settles into life at a hostile foster home. But despite its dark premise, My Life as a Courgette is surprisingly hopeful. The titular Courgette (Zucchini in the English dub) finds kindred spirits at the home, which is full of troubled kids, abandoned children, and other misfits. And along the way, he experiences the pangs of first love, as well as the deep sorrow of grief.
It's a deeply human film, despite the disconcerting, wide-eyed animation style. Charming but never overly saccharine, My Life as a Courgette is a profound little film that shouldn't be overlooked.
Rudolph the Red-Nosed Reindeer
Everyone has probably grown up watching this 1964 TV special that airs like clockwork every Christmas, but if you haven't yet, do so immediately. Rudolph the Red-Nosed Reindeer is the first Rankin/Bass holiday special that would spawn an entire cottage industry of stop-motion holiday movies including The Little Drummer Boy, Santa Claus is Comin' to Town, and Jack Frost. It's why when you think of Christmas movies, stop-motion immediately springs to mind. But Rudolph is the original.
The 55-minute film follows the classic tale of Rudolph, the outcast reindeer who ultimately saves Christmas because of his shiny, red nose. It's a charming classic that ranks among the great stop-motion animated movies.
The Little Prince
It seems like it would be impossible for a feature film to capture the bittersweet magic of Antoine de Saint-Exupéry's elegiac novella. The story of the lonely prince who travels to Earth — leaving behind his beloved, vain rose — only to find a world too fast-paced and uncaring for him to go on living, is one of the most profound stories to be told in so few words. Stretching that story out into a two-hour feature film couldn't possibly work, right?
The 2015 film The Little Prince just manages. It French animated film blends CG animation with stop-motion animation, telling two stories simultaneously: one of the titular Prince, the other of a young girl who becomes enraptured by his story. The CG storyline following the young girl is the weakest part of the film, but the Prince's story is beautifully told in delicate, paper-inspired stop-motion animation.