'Muppet Guys Talking' Trailer: The Documentary About The Original Muppets Actors Gets A Release Date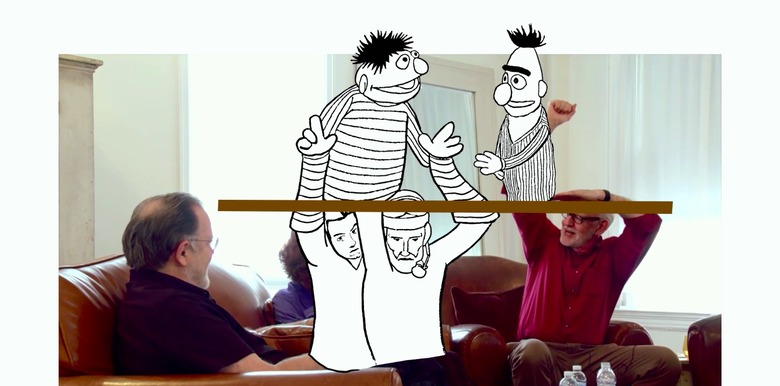 What better way to pay homage to the legacy of Jim Henson than with the five original Muppets actors who knew him best?
Six years ago, five legendary voice actors/puppeteers sat down to speak about the early days of The Muppets, the beloved puppet show created by Henson. Last year, the lovely documentary Muppet Guys Talking depicting that conversation premiered at the South by Southwest Festival to rave reviews. But the movie wouldn't see a wide release — until now.
Watch the Muppet Guys Talking Trailer
A new Muppet Guys Talking trailer has been dropped, along with a release date for the documentary. The movie won't receive a theatrical release, but will be available solely on MuppetGuysTalking.com for direct download on March 16.
Directed by fellow Muppets puppeteer Frank Oz, Muppet Guys Talking features five of the actors responsible for bringing some of the most beloved Muppets and Sesame Street characters to life: Oz, Dave Goelz, Fran Brill, Bill Barretta, and Jerry Nelson. Nelson died shortly after filming.
Oz moderates a candid couch-set conversation, as the five old friends reminisce about the early days working with Henson in the '60s, and what it was like to create characters like Miss Piggy or Count von Count. The entire documentary runs about 65 minutes.
In his SXSW review last year, /Film's own Jacob Hall called the documentary "an excellent DVD special feature, maybe a really good PBS special." He adds that, "It's not the kind of thing that demands a theater and an audience. However, it does what it sets out to do, and it does it very, very well."
So it's a good thing Muppet Guys Talking is not getting a theater or an audience — beyond the die-hard Henson fans who will seek out the download in two-weeks time. This is a movie truly for the fans, and that's all right.
Here is the synopsis for Muppet Guys Talking:
Five of the original Muppet performers/innovators come together to discuss the creation of their iconic characters under the visionary leadership of Jim Henson.
Muppet Guys Talking will be available via direct download on March 16, 2018.