Watch: The Lonely Island's Oscars Song Was Too Expensive And Star-Studded For The Ceremony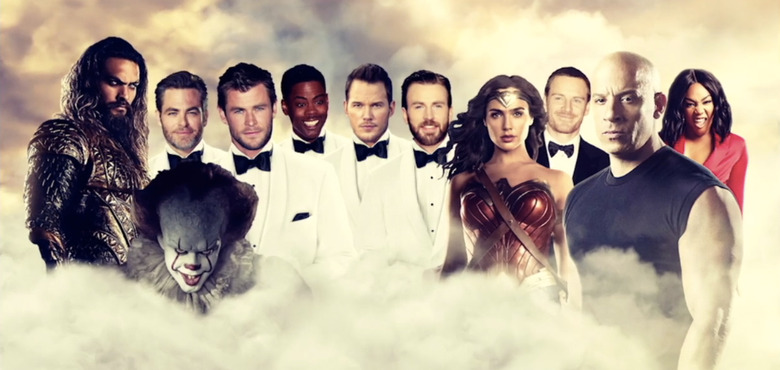 As expected, the 90th Academy Awards went long last night, even with Jimmy Kimmel offering a sweet jetski to the Oscar winner who gave the shortest acceptance speech. But the ceremony was almost a little bit longer thanks to The Lonely Island, and it would have been worth the extra time.
The Lonely Island, the Saturday Night Live hip-hop trio of Andy Samberg, Akiva Shaffer, and Jorma Taccone, was asked to write a song for this year's Oscars ceremony. However, the song that they came up with about the films that weren't nominated for Oscars ended up being "financially and logistically impossible" to shoot for the ceremony.
Thankfully, we can imagine what it might have been like thanks to the storyboard video and demo they recorded. So check out this abandoned The Lonely Island Oscars song featuring Thor, Wonder Woman, The Snowman, Pennywise the Dancing Clown, and more.
The Lonely Island Oscars Song
Obviously the intention was to have all of the stars who played the characters in this video be part of the music video. That's not out of the realm of possibility for something like the Oscars, especially considering all of the stars The Lonely Island members have worked with on Saturday Night Live. As you can see, it would have been quite the lavish production.
Not only does it prominently feature a duet by Chris Hemsworth as Thor and Gal Gadot as Wonder Woman, but there's a whole section featuring Chris Pine, Chris Pratt, Chris Evans, and Chris Hemsworth asking for a special honorary Oscar just for them. Furthermore, there's an amazing bit with Jason Momoa as Aquaman being jealous of all the love that The Shape of Water is getting for featuring sex with a fish man.
But the most hilarious part of The Lonely Island Oscars song is the presence of the critically panned box office bomb The Snowman. Even though he gave us all the clues, it wasn't enough for Michael Fassbender to know that the movie was awful.
For the curious among you, in addition to The Lonely Island doing some vocals here, the rest of the temporary demo vocals were done by Greg Chun (who also composed the music) and Baraka May.
It's a shame we'll never get to see The Lonely Island Oscars song as it was meant to be seen, but we'll always have this: