Cool Stuff: Add The Infinity Gauntlet From 'Avengers: Infinity War' To Your Vault, Courtesy Of Sideshow Collectibles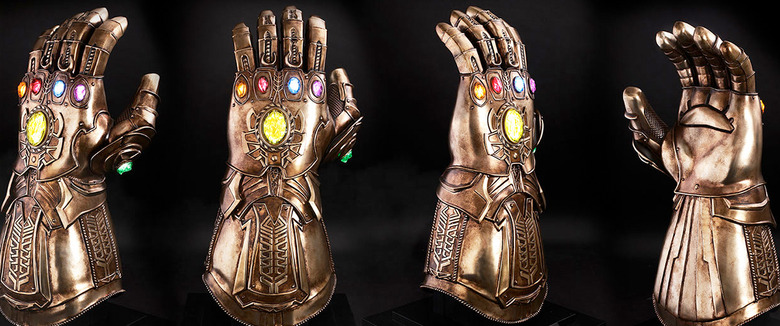 Fans have been waiting to see Thanos sling on the Infinity Gauntlet and wreak havoc across the galaxy ever since he appeared in The Avengers mid-credits scene in 2012. Now he's finally going to deliver on Marvel Studios' promise of bringing the Mad Titan to the big screen in Avengers: Infinity War, and you can bring his weapon of mass destruction home for your own vault.
Sideshow Collectibles has unveiled their life-size masterpiece series prop replica of the Infinity Gauntlet, complete with light-up Infinity Stones to display the ultimate power you hold in the palm of your hand. It's quite the collectible to behold.
Sideshow Collectibles Infinity Gauntlet Prop Replica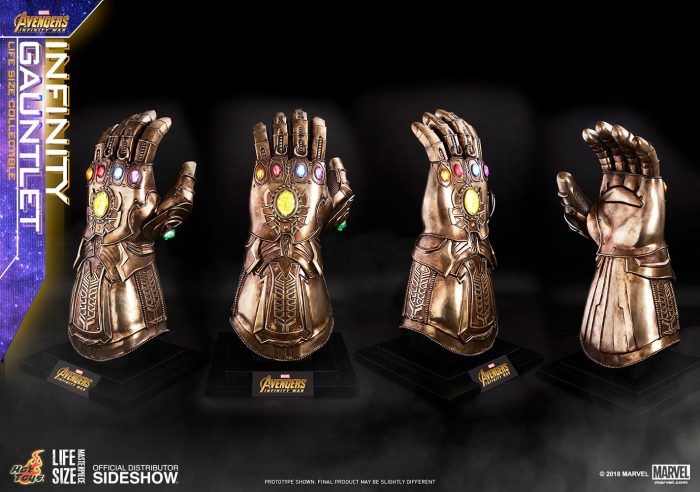 Not only is the Infinity Gauntlet created with multi-layered metallic painting with weathering effect, as well as LED light-up Infinity Stones with two different lighting modes. The glove sits on a custom base with the film's logo, which you'll probably want to use since it over two-feet tall from the end to the fingertips.
The only downside is that you can't wear the Infinity Gauntlet on your hand. But for a piece that costs $930 (or $104 a month if you choose to do the most drawn out payment plan), you probably don't want to use it as a cosplay item. If you're looking for a cheaper more versatile version of the prop, Marvel Legends has a different Infinity Gauntlet collectible that you can pick up.
Here's how Sideshow Collectibles describes the product to convince you to buy it:
Since the debut announcement of Marvel Studio's blockbuster, Avengers: Infinity War, fans were instantly thrilled and captivated by the mysterious Infinity Gauntlet, as one who possesses the Infinity Gauntlet shall gain omnipotent power.
Thanos, the newly introduced supervillain, is now in search for the crucial Infinity Stones which include the Mind Stone, Time Stone, Power Stone, Space Stone, Reality Stone and Soul Stone to complete the Infinity Gauntlet.
Sideshow and Hot Toys are excited to officially introduce the invincible Infinity Gauntlet in life-size from the Avengers: Infinity War. This remarkable and realistic polystone-made life-size replica is approximately 68cm tall, and it features LED light-up function with two lighting modes which include light-on effect and breathing light effect; multi-layered metallic painting with weathering effect, and a specially designed custom base with movie logo.
Don't pass up on the chance to add this gorgeous Infinity Gauntlet collectible to your Avengers: Infinity War collection display!
Sideshow Collectibles Infinity Gauntlet will ship in the first quarter of 2019 and you can pre-order it now.