The Morning Watch: Oscars 2018 Edition - Jimmy Kimmel's Monologue, A Theater Surprise & More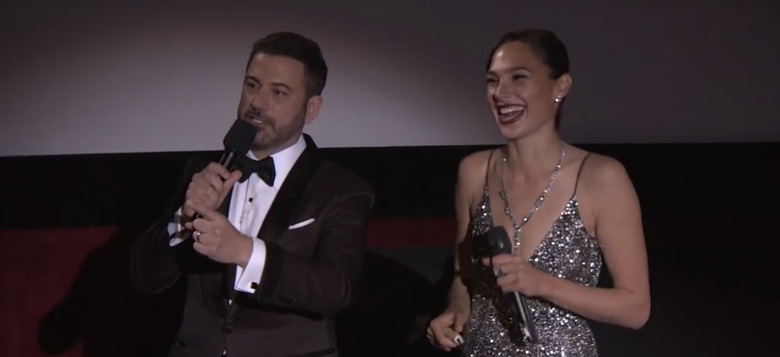 The Morning Watch is a recurring feature that highlights a handful of noteworthy videos from around the web. They could be video essays, fanmade productions, featurettes, short films, hilarious sketches, or just anything that has to do with our favorite movies and TV shows.
In this special 2018 Oscars edition, watch Jimmy Kimmel's opening monologue and some of the comedian's other amusing bits from the night, including a fantastic prize handed out to the winner who gave the shortest acceptance speech of the night. But stick around for an Oscars prank that has some of Hollywood's finest stars surprising a movie theater full of unsuspecting fans.
Watch all of these 2018 Oscars highlights below, and see who took home awards over here.
An Old Timey Academy Awards Opening
First up, the show kicked off with this old timey opening styled after an old news reel. Sadly, it means that we missed the latest episode of Celebrity Street Fights with Mario Lopez, but you win some and you lose some. It's rather impressive how quickly this was put together, complete with Jimmy Kimmel's live voiceover leading right up to the opening of the show.
Jimmy Kimmel's Opening Monologue
Jimmy Kimmel aimed for more laughs with his monologue that discussed some of the big headlines. He tackled the #MeToo movement, payment inequality, the clueless nature of Hollywood, and much more. He didn't take any low-hanging fruit, but still manage to take some hilarious jabs at the entertainment world.
Shortest Acceptance Speech Gets a Prize
Because the Oscars ceremony always runs long, this year they introduced some incentive to wrap things up a little quicker than usual. Whichever winner gave the shortest acceptance speech won a brand new jetski. It was a running gag throughout the night and always something the winners were cognizant of, even if they didn't actively try to win it.
Jimmy Kimmel Meets His 9-Year Old Self
When some of the cast members of Star Wars: The Last Jedi came out to present an award, Jimmy Kimmel was confronted by his Star Wars-loving 9-year old self on stage. This kid was pretty damn funny too.
Another Great Oscars Prank
After Jimmy Kimmel surprised a Hollywood tour bus last year by letting them into the Oscars live during the ceremony, this year he had another prank for some unsuspecting fans. A group of moviegoers were next door watching a sneak preview screening of A Wrinkle in Time, but what they didn't know was that Jimmy Kimmel, some of Hollywood's most famous celebrities, and a camera crew, were going to bust into the screening with a bunch of treats.
As you can see, Gal Gadot has fun meeting a bunch of the movie goers. Guillermo del Toro and Lin-Manuel Miranda carried in a six-foot sub. Armie Hammer and Ansel Elgort used hot dog cannons to do exactly what you think they do. Plus, Lupita Nyong'o, Margot Robbie and Mark Hamill had baskets full of candy. What a fantastic treat for those fans.
***
Stay tuned, because we've got a couple more round-us of 2018 Oscars highlights coming from last night's show, including a bunch of stellar, inspiring montages, some incredible acceptance speeches and more.