Exclusive: 'Ghostbusters' Annual 2018 Comic Sneak Peek Teases The Ultimate Franchise Crossover

We may receive a commission on purchases made from links.
Even though the future of the Ghostbusters franchise on the big screen is uncertain at this point, the paranormal exterminators are enjoying quite a fantastic run in comic book form.
Last year saw the original Ghostbusters from 1984 and the new lady Ghostbusters from 2016 team up for a miniseries called Ghostbusters 101. Now every single iteration of the Ghostbusters, including The Real Ghostbusters and Extreme Ghostbusters, will have to work together to stop a new supernatural threat in the new IDW Comics miniseries Ghostbusters: Crossing Over beginning later this month.
Before that, there are some more immediate concerns from the Ghostbusters Annual 2018 comic, and we have an exclusive preview of some of the pages in the forthcoming title that hits shelves this week. Check them out below.
Before you check out the pages, here's the synopsis of the Ghostbusters Annual 2018 comic from IDW Comics:
When urban miners discover what appears to be a centuries-old, man-made chamber 600 feet below the streets of New York City, they unwittingly unleash an unnamed entity with designs on dominance... an entity that will soon answer to the name SAMHAIN. Join the original Ghostbusters in this double-sized annual that will also sow the seeds for Crossing Over!
And here's our exclusive preview of some of the pages in the Ghostbusters Annual 2018 comic:
Keep in mind that these pages aren't in narrative order. Instead, IDW Comics wanted to show off all the Ghostbusters team-up action that's happening here as they lead up to Ghostbusters: Crossing Over, the next big crossover.
Erik Burnham wrote the Ghostbusters Annual 2018, which sets up the aforementioned crossover that begins later this month. Meanwhile, the artwork is done by Dan Schoening with Luis Antonio Delgado acting as the colorist. It hits shelves on March 7, 2018 (that's this week), so be sure to seek it out.
Ghostbusters: Crossing Over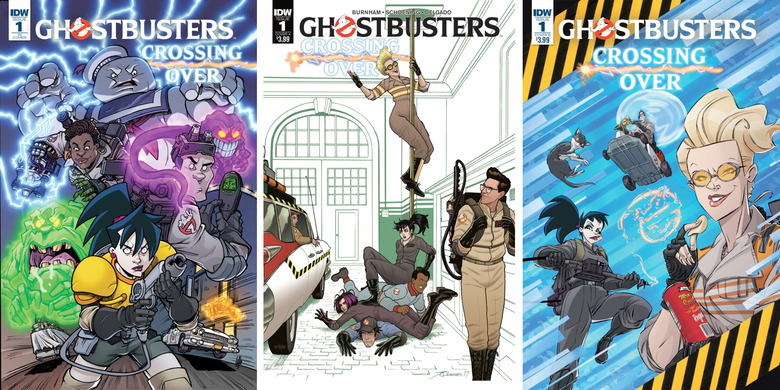 If you haven't been keeping up with the Ghostbusters comics, you've been missing out on some cool storytelling prospects. It makes me wish crossovers like this were possible on the big screen. Still, the comics are a mighty fine substitute. When it comes to Ghostbusters: Crossing Over, this is the biggest crossover that the franchise has ever seen. Every iteration of the Ghostbusters is involved, and here's what they're up against:
For a while now, the original Ghostbusters have had access to an interdimensional portal that has given them all-new ways to research the paranormal and consult with Ghostbusters throughout the multiverse... but they haven't shared this tech with any of those other Ghostbusters, and some don't think that's fair. That's why, after a chance meeting, Jillian Holtzmann and Ron Alexander have decided to right this wrong and cobble together their own working portal... which unintentionally unleashes the contents of the Ghostbusters' Containment Unit! That's a lot of ghosts, and it's going to take a lot of Ghostbusters to recapture them. In fact, it's going to take ALL of them. Crossing Over starts here!
The first issue of Ghostbusters: Crossing Over arrives on March 14, 2018 with a new issue being released each month through October. In the meantime, you can pre-order the Ghostbusters Annual 2018 right here.