'Ghostbusters' Live Concert Tour Kicks Off This Fall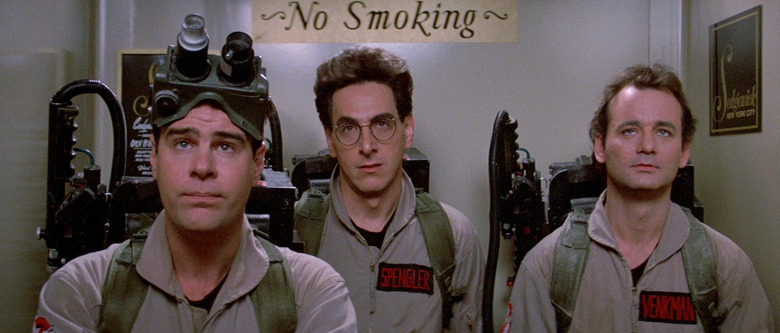 Seeing movies with a real life orchestra providing the score has become more and more popular in recent years. There's just something special about watching a movie and hearing an outstanding orchestra bringing the score to life right in front of you. Movies like Back to the Future, Star Wars, Raiders of the Lost Ark, E.T. The Extra Terrestrial, Home Alone, the Harry Potter franchise and more have been given the live concert treatment. Now one more classic will join them.
The original Ghostbusters will be kicking off a live concert series this fall with stops in several cities around the world. Peter Bernstein, orchestrator of the original film and son of the late Ghostbusters composer Elmer Bernstein, will conduct local orchestras for the screening of the classic film starring Bill Murray, Dan Aykroyd, Harold Ramis, Ernie Hudson and Sigourney Weaver.
The Ghostbusters Live in Concert series is coming courtesy of Columbia Pictures, Ghost Corps, and Schirmer Theatrical. Variety reports the tour is supposed to kick off this fall, but there's no specific date or locations for the concert series just yet. But director and producer Ivan Reitman just couldn't wait to talk about it:
"I'm thrilled to be presenting Ghostbusters with a live focus on Elmer Bernstein's brilliant score. I've always felt that his remarkable music was the magical glue that held together the film's unique mixture of funny, mysterious, and scary."
Though the score of Ghostbusters may not be quite as iconic as the theme song from Ray Parker Jr., it's still a trademark score that is unmistakably recognizable. It's a little bit goofy, a little bit haunting, just like the movie itself. Peter Bernstein couldn't be more pleased to keep his father's legacy alive in such a cool way:
"I am deeply excited to be able to bring Ghostbusters Live to the concert hall. Working for my father as an orchestrator all those years ago was a unique and wonderful time. To be able to bring that score back to life and conduct it is thrilling both professionally and personally."
The biggest question I have is whether there will be some kind of live version of the Ghostbusters theme song played along with the original vocals, or if that will just be played as part of the normal soundtrack for the film. Either way, as a huge Ghostbusters fan, this is going to be an event that I will not be missing. As soon as more information is available, we'll let you know right away.