'Atlanta' Season 2 Early Buzz: Donald Glover Has Done It Again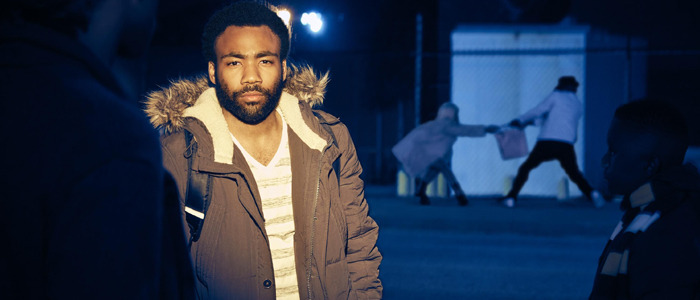 When a brand new show wins two Emmys and two Golden Globes, it can be tough to top that level of early success. But it seems as if Donald Glover's occasionally surreal FX comedy/drama Atlanta has managed to fly in the face of the dreaded sophomore slump. The reviews are in, and early buzz about the new season is strong – so strong, in fact, that as of the time of this writing, season 2 has a 100% rating on Rotten Tomatoes. Read some excerpts from a handful of Atlanta season 2 reviews below.
100% Fresh
Reviews are in! Atlanta: Robbin' Season is currently #Fresh at 100% on the #Tomatometer, with 14 reviews #AtlantaFX https://t.co/HQEfp0QJly pic.twitter.com/KqMmqqeYGg

— Rotten Tomatoes (@RottenTomatoes) February 28, 2018
As usual, Rotten Tomatoes is not and should not be considered the end-all be-all of criticism. It's always a smart idea to read the work of individual critics you respect instead of reducing a film or show down to a single number. With that caveat out of the way, it's clear that critics are enjoying Atlanta season 2. This morning, Rotten Tomatoes tweeted that Atlanta Robbin' Season (the official title of the show's second season) was sitting at 100% on its Tomatometer with 14 reviews. Since then, it's racked up a few more reviews and it's still rocking a perfect score.
Atlanta season 2 reviews
The first season of the show featured some surrealist touches: an invisible car, a black version of Justin Bieber, and practically everything the character of Darius (Lakeith Stanfield) said or did. In the early days, Glover likened Atlanta to Twin Peaks, but after seeing what he did with the whole first season, even that lofty comparison fails to capture the magic Glover and his team created with this series.
But it sounds like season 2 pulls the most unexpected move of all: it gets a little more grounded (at least at the beginning).
The Observer says:
When expectations have been subverted to such a degree, audiences will come to expect even greater off-beat twists and turns the second time around.
But that's the genius of Atlanta season two: In its first three episodes, it trades in the genre-breaking of season one for a more linear story that grounds everything, while still maintaining the more daring choices made the first time around.
Uproxx elaborates:
There are still absurdist touches in the margins, like Darius becoming convinced that all the "Florida Man" headlines he sees on the internet refer to the same guy. And there are still some audacious shifts in tone, like a largely dramatic cameo from an unrecognizable Katt Williams in the season premiere. But it all feels more of a piece, and a bit more down to earth, than the first season.
Considering how much of the excitement of season one was driven by its wild unpredictability, that Glover has dialed that back a fair amount should feel profoundly disappointing. It doesn't, though.
Here's a bit from Indiewire's review:
Brothers Donald and Stephen Glover, who penned the episodes, continue to find natural rhythms to convey the bigger picture. When Paper Boi drives home the theme of Episode 3 in one perfect comparison, it connects. And so much hits home even without a declarative statement, like the bizarre climax of the premiere. You're waiting for a moment to happen without really knowing why. Then it happens and everything clicks. Never does it feel like the show is up on a pulpit, nor does it stray from its characters' compelling points of view. That helps the jokes pop, often arising in an instant and sending you into fits of laughter, but the blend of big and small concerns is utilized for an intriguing purpose in "Robbin' Season."
The San Francisco Chronicle says:
All three episodes are brilliant, thrilling and intentionally unsettling. The most memorable, though, is "Alligator Man," which features a fantastic performance by guest star Katt Williams as Earn's Uncle Willie...
The new season of "Atlanta" is like a dense symphonic construction. There are certain motifs woven throughout the whole — some of them are obvious and instantly recognizable, others are more elusive and only come to light when we look back on an episode.
The performances are superb at every level, and the direction, mostly by Hiro Murai, is equal to the levels of excellence in the acting and the scripts by Glover, his brother Stephen and others.
And The New York Times digs it, too:
Along with its new title, "Atlanta Robbin' Season" has a different, more serial structure from the impressionistic first season. What's blessedly the same: the dry sense of humor, the luscious visual style established by the frequent director Hiro Murai and the writers' effortless fluency with social media's language and quirks. (A brilliant early bit involves the popularity of white-girl acoustic covers of rap songs on YouTube.)
The storytelling in "Atlanta" is dreamlike, which is another way of saying that it's unusually realistic. As in life, weird or comical developments don't announce themselves before they happen: They just start happening, and your consciousness has to catch up. The off-balance feeling this creates is the buzz of watching "Atlanta."
I can't wait to dive back into Glover's profound, bizarre, and resonant world. Atlanta season 2 premieres on FX tomorrow night, Thursday, March 1, 2018.