The Oscars 2018 Honest Trailer: The Best Picture Nominees Get Skewered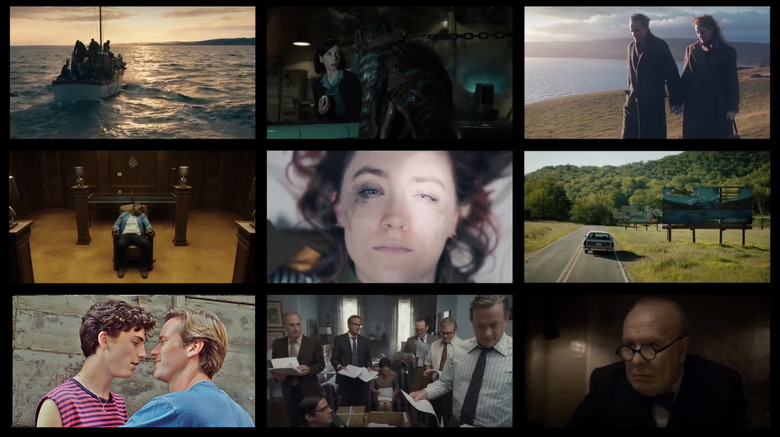 This weekend brings the 90th Academy Awards to ABC to honor achievements in filmmaking from the previous year. The awards ceremony will broadcast live on Sunday, March 4 at 8pm ET/5pm PT with Hollywood's finest glad-handing each other and kissing all the asses. Therefore it only makes sense that the Best Picture nominees get knocked down a few pegs beforehand.
The Oscars 2018 Honest Trailer lines up all nine of the movies up for this year's top prize in film and fires off some quick jabs at them. It's not quite as satisfying as the usual Honest Trailer (surely those will come later as they get released on home video), but it's a good place to start for the time being.
Watch the Oscars 2018 Honest Trailer
In case you haven't been keeping up with awards season, or you just don't care until the last minute, the films nominated for Best Picture this year are Get Out, Call Me By Your Name, The Post, The Shape of Water, Three Billboards Outside Ebbing, Missouri, Lady Bird, Dunkirk, The Darkest Hour and Phantom Thread. Each of the movies gets a great alternate title and a few quick jokes at its expense.
The Oscars should be particularly interesting this year. Not only do they have to make sure it goes off without a hitch after last year's Best Picture flub, but we're still in the throes of the #MeToo movement, so the usual Hollywood circle jerk likely won't feel quite as congratulatory since the industry is still weeding out sexual predators all the time.
So tune in on March 4 to see how it all plays out. And in the meantime, see all the Oscar nominees right here.