'Ralph Breaks The Internet: Wreck-It Ralph 2' Trailer: The Big Guy Is Back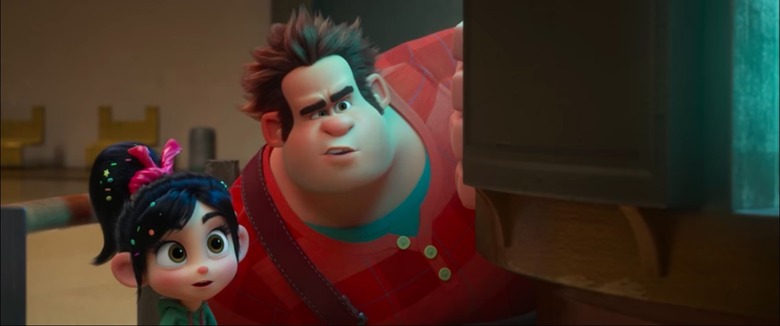 Ralph is back, and this time he's not content with keeping his wrecking contained to a single arcade. In Ralph Breaks the Internet: Wreck-It Ralph 2, the lovable video game character (John C. Reilly) and his adorable pint-sized pal Vanellope von Schweetz (Sarah Silverman) are broadening their horizons and heading into the larger world...the world wide web.
Watch the brand new Wreck-It Ralph 2 trailer below, and see what kind of trouble our old friends get into once they leave the arcade.
Wreck-It Ralph 2 Trailer
At last year's D23 Expo, we learned that this film kicks into gear when Ralph and Vanellope enter the Internet (as first seen in this footage) to track down a replacement part for Sugar Rush, Vanellope's racing game. As you might expect from two characters who are introduced to the concept of the Internet for the first time, their friendship gets tested along the way.
We last saw Ralph and Vanellope in 2012's Wreck-It Ralph, which is easily one of the best video game movies ever made (even though it's not technically based on an existing video game). Underneath its polished exterior and fun shout-outs to famous characters like Q*Bert, there's a nice beating heart to the story about outcasts trying to find a way to fit in. It has an endearing underdog quality, and I'm hoping the sequel keeps that relationship at the center of the story and doesn't get too distracted by the endless possibilities of the Internet. Now if you'll excuse me, I'm going to go explore the endless possibilities of the Internet.
Here's the sequel's official synopsis:
Ralph Breaks the Internet: Wreck-It Ralph 2 leaves Litwak's video arcade behind, venturing into the uncharted, expansive and thrilling world of the internet – which may or may not survive Ralph's wrecking. Video game bad guy Ralph (voice of John C. Reilly) and fellow misfit Vanellope von Schweetz (voice of Sara Silverman) must risk it all by traveling to the world wide web in search of a replacement part of save Vanellope's video game, Sugar Rush. In way over their heads, Ralph and Vanellope rely on the citizens of the internet – the netizens – to help navigate their way, including a website entrepreneur named Yesss (voice of Taraji P. Henson), who is the head algorithm and the heart and soul of trend-making site "BuzzzTube."
Wreck-It Ralph 2 hits theaters on November 21, 2018.