Steve Martin And Martin Short Team Up For A Netflix Comedy Special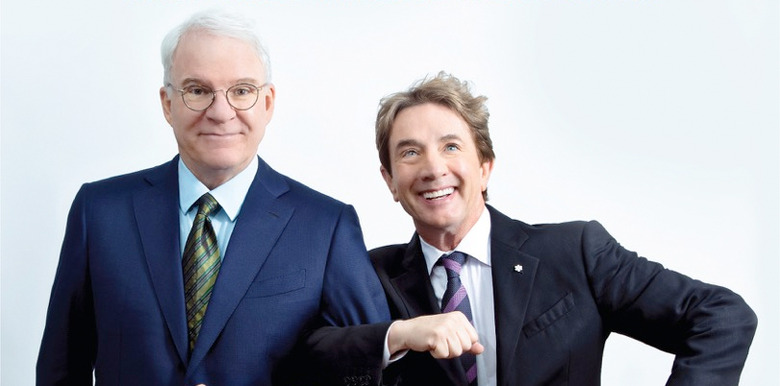 Netflix has been giving comedy specials to anyone and everyone, so much that it's become a bit of a joke in the comedy world. But it's still worth paying attention when they give a special to comedians who truly deserve it.
Steve Martin and Martin Short have been partners in comedy for decades. Having appeared in various sketch shows together over the years, not to mention films like Three Amigos and Father of the Bride, the two just have phenomenal chemistry and improvisational skills when they're teamed up together. Recently, they've been touring the United States with a comedy and musical show called Steve Martin and Martin Short: An Evening You Will Forget for the Rest of Your Life and Netflix will be adding that to their streaming library.
Steve Martin and Martin Short announced their new Netflix special on Twitter today:
Despite what it seems in the video above, The Hollywood Reporter reveals the Steven Martin and Martin Short Netflix special has already been recorded. It was taped on Friday, February 23 at their tour date in Greenville, South Carolina. During the show, the comedic duo appears in a variety of comedy and musical sketches, not to mention sharing various conversations about the careers, collaborations, showbiz stories and much more. That means you can likely expect a lot of things like this:
Helping to bring the musical side of the special to life is the Grammy-winning bluegrass band the Steep Canyon Rangers, who hae toured with Steve Martin before. You can bet Martin will be whipping out his banjo to play with the band during the special, and presumably with some comedy involved as well.
Though Martin and Short are old school comedians, their brand of laughter has never gotten old for me. Martin is more of the dry straight man while Short is a little more wiry and rambunctious. They're just a phenomenal comedy duo, and it makes me wish they were still making movies together today.
There's no specific date for the Netflix special's debut, but it will be sometime later this year. Of course, if you don't want to wait for the special to drop on Netflix, you can always get tickets to see the duo live yourself. Steve Martin and Martin Short are still touring the United States and Canada right now, and you can see the remaining stops on their calendar that last through October 2018 at Steve Martin's official website.