'The Week Of' Trailer: Adam Sandler And Chris Rock Butt Heads Over A Wedding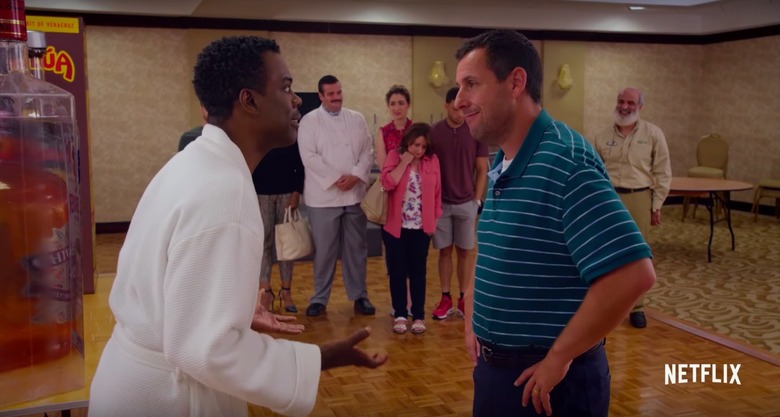 Ever since Adam Sandler and Chris Rock starred together on Saturday Night Live in the '90s, Rock has been a constant fixture in Sandler's progressively crass repertoire — from The Longest Yard, to Grown-Ups and Grown-Ups 2.
But as the two reteam in The Week Of for Sandler's last movie in his original four-film Netflix deal, they seem to pull off a miracle: a genuinely charming movie.
The Week Of Trailer
Now, I may be deluded, but The Week Of trailer may actually be...good? It has little of the gross-out humor that Sandler's previous Netflix films have boasted — The Ridiculous Six, The Do-Over, Sandy Wexler — and instead seems almost demure.
It helps that Sandler and Rock give much more subdued performances than we're used to seeing from them. The two play passive-aggressive fathers waging a war of pride over their kids' wedding. Sandler sheds his bombastic persona for a weary passivity that we saw him capable of in Noah Baumbach's The Meyerowitz Stories, while Chris Rock plays the straight man to Sandler's quirky working-class family. It's got all the trademarks of a family comedy, of course — the disabled great-uncle, the dirty relative played by Steve Buscemi, and the cartoonishly weird wife played by fellow SNL alum Rachel Dratch.
Perhaps I'm optimistic that Sandler will attempt to make a good film out of his last project in his original multi-picture Netflix deal, which was extended last year. Sandler co-wrote the film with director Robert Smigel, who is probably best known for playing Triumph the Insult Comic Dog. Like the last three films made under the Netflix deal, The Week Of was produced under Sandler's Happy Madison Productions banner.
Here is the official synopsis for The Week Of:
The Week Of tells the story of a devoted, middle class father (Adam Sandler) determined to pay for his daughter's wedding despite the prodding of the wealthier father of the groom (Chris Rock). A series of calamities forces the dads (and their families) to come together and endure the longest week of their lives.
The Week Of will premiere on Netflix on April 27, 2018.