Hail The Goblin King: 'Labyrinth' Is Returning To Theaters This Spring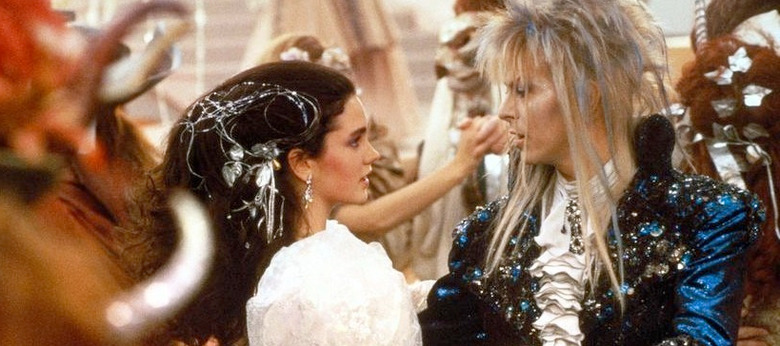 The first week in May will be bringing Avengers: Infinity War to theaters, but before that fans can return to a wild, weird fantasy world from the mind of Jim Henson in 1986.
In association with the Jim Henson Company and Sony Pictures Entertainment, Fathom Events is bringing the cult classic Labyrinth back to theaters for three days. Fans are encouraged to attend in costume for this event and presumably partake in the magic dance with David Bowie as Jareth the Goblin King.
Here's the trailer for the trippy, wild fantasy trip that is Labyrinth:
Jennifer Connelly, in one of her earliest roles on screen, plays a teenage girl named Sarah who must weave her way through a maze to rescue her baby brother. The only problem is her brother has been taken by the enigmatic, sly and flirtatious Goblin King Jareth, played by none other than David Bowie.
The film is a mesmerizing, strange combination of music, puppetry, crafty production design and wild imagery that makes for one of the most celebrated cult classics of 1986. However, it's one of those films that you really had to grow up with in order to have a lot of reverence for it today.
The screenings will happen on April 29, May 1 and May 2 this spring, and they'll feature bonus content such as introductions from Jennifer Connelly and Brian Henson. In addition, there will also be some discussion about the the Jim Henson fantasy series The Storyteller, which features some crossover special effects techniques that made both productions possible.
To get tickets and find out where Labyrinth is playing, check out the Fathom Events website.