Broadway's Elsa Sings New Song "Monster" From The 'Frozen' Musical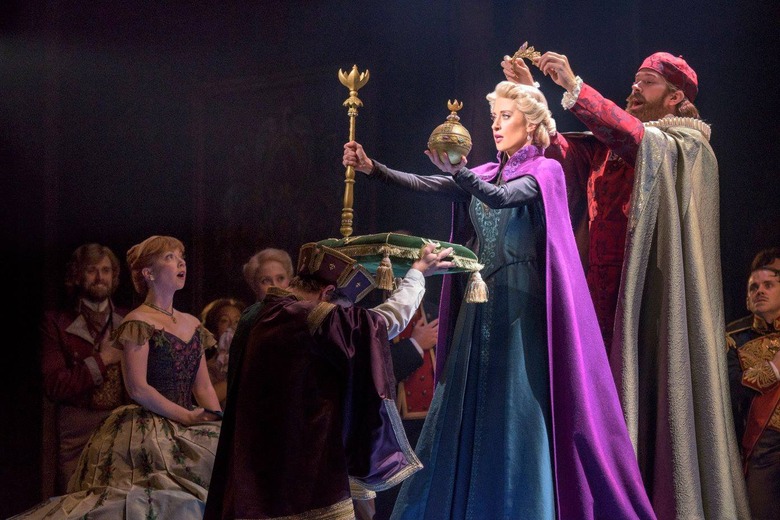 You won't be able to let go of this new tune from the highly anticipated Frozen musical.
The stage adaptation of the insanely popular Disney animated movie will debut on Broadway this spring, but you'll get to hear one of its 12 new original songs right now.
"Let It Go" was the powerful song that launched Frozen into becoming the pop culture phenomenon that it is today. Sung by Idina Menzel in the 2013 animated film, it has transcended the movie itself and become the defining song of every empowered young child — and their sleepless parents who know every word.
So what could the Frozen musical do to improve on that influence? Add another powerhouse ballad.
Elsa gets another big solo number with "Monster," an emotional pop ballad that the exiled queen sings as she contemplates the dangers she poses to her sister and country. Broadway Elsa actress Caissie Levy debuts the song in a glossy music video.
Penned by Oscar-winners Kristen Anderson-Lopez and Robert Lopez, the film's songwriters, "Monster" plays a key moment in Act Two for Elsa, in which the queen asks herself: Am I a monster? In the song, she's accompanied by John Riddle, Adam Perry, Noah J. Ricketts and Donald Jones, Jr., all of whom are in the musical as well.
The Frozen musical will feature 12 new original songs total. After the release of "Monster," the production will release one new song from the soundtrack each week for the next three weeks. Those songs include "What Do You Know About Love?," a duet between Anna and Kristoff (Patti Murin and Jelani Alladin respectively), "Dangerous to Dream," another Elsa solo, and "True Love," an Anna solo.
Anderson-Lopez and Robert Lopez discuss "Monster" in a commentary video as well.
"'Monster' is Elsa's song, her big number in Act 2," Lopez describes in the video. "She's just thrown her sister out of the castle and she's hearing voices in the distance of men who are coming up to confront her. She's panicked and thinking of all the destruction she's wrought."
So while it may be a power ballad like "Let It Go," "Monster" is worlds away from the song that made Frozen famous. Instead of an empowering song about self-acceptance, "Monster" is the flip side: that of self-hate and destruction.
The Frozen production also features cast members Greg Hildreth (Olaf), John Riddle (Hans), Robert Creighton (Weselton), Kevin Del Aguila (Oaken), Timothy Hughes (Pabbie), Andrew Pirozzi (Sven), Audrey Bennett (Young Anna), Mattea Conforti (Young Anna), Brooklyn Nelson (Young Elsa), Ayla Schwartz (Young Elsa), Alyssa Fox (Elsa Standby), Aisha Jackson (Anna Standby), and Adam Jepsen (Sven Alternate).
Frozen the Musical will open on Broadway on March 22, 2018. Preview performances have already begun at the St. James Theatre.