'The Zen Diaries Of Garry Shandling' Trailer: Judd Apatow Digs Into The Comedian's Life And Legacy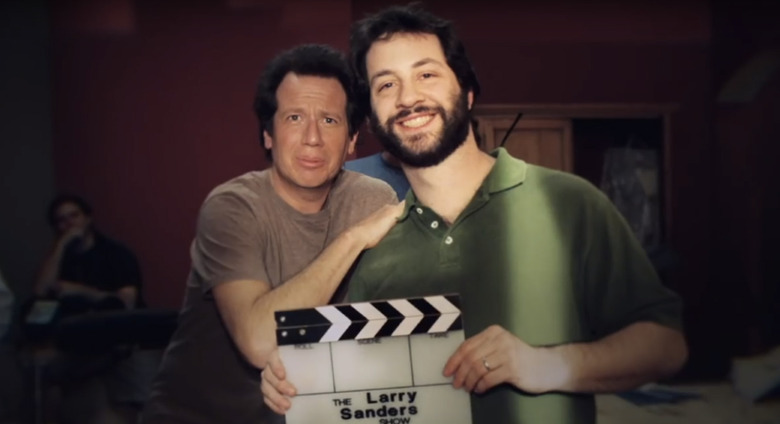 Next month will mark two years since we lost comedian Garry Shandling all too soon at the age of 66. But rather than stewing about it this whole time, director Judd Apatow decided to pay tribute to the comedian who brought us fantastic stand-up comedy, The Larry Sanders Show, and a memorable senator turned Hydra agent in the Marvel Cinematic Universe. And he did it with a film.
The Zen Diaries of Garry Shandling is a new documentary coming to HBO from director Judd Apatow. And since Apatow has a long history with some of the greatest names in comedy, the line-up of talking heads you'll see in this Garry Shandling documentary trailer is impressive as hell. Jim Carrey, Jerry Seinfeld, Jay Leno and Conan O'Brien are just some of the talents who turned up to remember Shandling's life and comedic legacy.
Watch The Zen Diaries of Garry Shandling Trailer
This new documentary is also filled with archival footage from Shandling's various television appearances over his 40-year career. Apatow had access to plenty of the comedian's personal journals, private letters, home videos and much more. Some of the other famous faces making appearances include James L. Brooks, Sacha Baron Cohen, David Coulier, Jon Favreau, Kevin Nealon, Bob Saget, Sarah Silverman and more.
This is especially personal because Shandling was a mentor to Apatow long before he became a successful filmmaker. Apatow was learning from Shandling back while he was still doing stand-up and hanging around with a young Adam Sandler. This is exactly the kind of documentary that a comedy nerd like me never gets tired of seeing. It's bittersweet since Shandling is no longer with us, but it's such a loving, intimate, eye-opening look into his mind and heart, the good and the bad.
Epic in scope and intimate in detail, The Zen Diaries of Garry Shandling features conversations with more than 40 of Shandling's family and friends, including James L. Brooks, Jim Carrey, Sacha Baron Cohen, David Coulier, Jon Favreau, Jay Leno, Kevin Nealon, Conan O'Brien, Bob Saget, Jerry Seinfeld and Sarah Silverman, and four decades' worth of TV appearances, along with personal journals, private letters and candid home audio and video footage that reveal his brilliant mind and restless soul.
The Zen Diaries of Garry Shandling hits HBO on March 26, 2018 at 8pm ET.