'Barry' Trailer: Bill Hader Is A Hitman Who Gets Bitten By The Acting Bug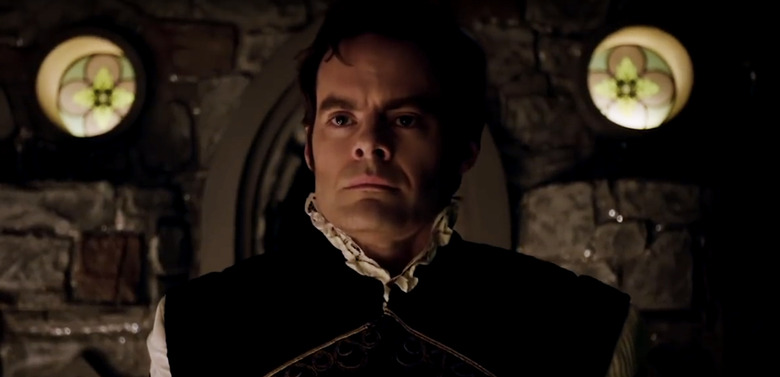 Bill Hader is returning to Saturday Night Live to host the late night sketch series that kickstarted his career next month, and that's mostly because he has a new HBO show to promote.Barry features Bill Hader in a new dark comedy series with shades of Dexter. The show sees the comedian playing a hitman whose most recent job brings him into an acting class to track his target. But as we see in the new Barry trailer, this assassin for hire finds himself bitten by the acting bug, feeling alive and passionate when he gets on stage and pretends to be someone else. But will he be able to balance his love for acting and a job that has him killing people all the time?
Watch the New Barry Trailer
Bill Hader is easily one of my favorite cast members from Saturday Night Live. The range of his characters and the voices he puts on are outstanding. But I love seeing that he'll be going to a bit darker, more serious side, even though this is still essentially a comedy series. There's a lot of potential in this show and this could be a bright spot in Hader's already satisfying career and might open up some new windows for him on the big screen. Plus, Hader is directing some episodes of the first eight episode season (as well as executive producing), so it will also expand his career possibilities behind the camera.
The series will likely face the challenge of balancing the darker comedy with the serious drama. Finding a happy medium between the two where both land firmly can be a challenge (like last year's Suburbicon), so it will be interesting to see how this show, which hails from executive producer Alec Berg (Curb Your Enthusiasm, Seinfeld), fares in that regard.
Barry (Bill Hader) is a depressed, low-rent hitman from the Midwest. Lonely and dissatisfied in his life, he reluctantly travels to Los Angeles to execute a hit on an aspiring actor. Barry follows his "mark" into an acting class and ends up finding an accepting community in a group of eager hopefuls within the LA theater scene. He wants to start a new life as an actor, but his criminal past won't let him walk away —can he find a way to balance both worlds?
Barry premieres on HBO on March 25, 2018.