A Flamin' Hot Cheetos Movie Is Coming To Save Cinema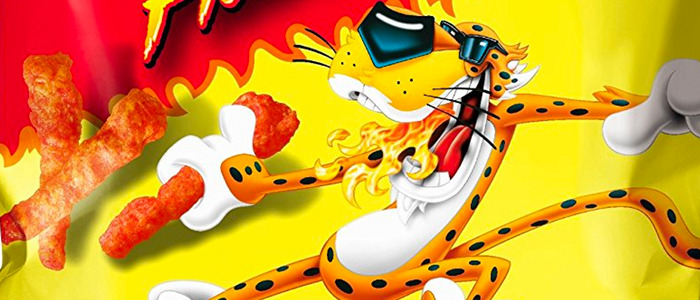 We may receive a commission on purchases made from links.
At long last, a Flamin' Hot Cheetos movie will grace the silver screen. What a day for the medium of film! The Flamin' Hot Cheetos movie won't be about the spicy snack itself, but rather the creation of the snack by former janitor Richard Montanez.
Sink your teeth into this: the story behind the creation of Flamin' Hot Cheetos, those crunchy hot snacks you know you love, is getting the big screen treatment. Variety reports Fox Searchlight and DeVon Franklin are set to produce Flamin' Hot, a film about Richard Montanez, the man who invented Flamin' Hot Cheetos. This may sound like an attempt at crass consumerism writ large, but Montanez's story is actually quite inspiring.
Montanez was a janitor at Frito-Lay when he came up with the idea for Flamin' Hot Cheetos. Per Variety's possibly aggrandized write-up of this true tale, Montanez's invention transformed "the Frito-Lay brand into a pop culture phenomenon" and "disrupted the entire food industry in the process." I don't know how true that is (was the food industry really disrupted by some spicy chips?), but the fact of the matter is Montanez's invention transformed him from a janitor into a corporate executive. That's the type of inspiring, feel-good entertainment audiences can get behind.
This sounds like a nice counterpoint to The Founder, the McDonald's origin story that revealed the founder of McDonald's was actually kind of a jerk. My knee-jerk reaction to this film concept is to instantly say, "Thanks, but no thanks." But I had a similar reaction when a "Facebook movie" was announced. That "Facebook movie" turned out to be The Social Network, which is kind of great. I guess what I'm saying here is never judge a Flamin' Hot Cheetos movie by its bag. Flamin' Hot will be penned by Lewis Colick, who also wrote October Sky.
What's the Deal With Flamin' Hot Cheetos?
I'll confess that I tend to avoid snack foods, and I don't care for spicy things, so I've never feasted on Flamin' Hot Cheetos. For some background info on these spicy treats, I turned to the experts: the Amazon.com review section for Cheetos Crunchy Flamin' Hot Cheese Flavored Snacks, 8.5 Ounce.
"The ReviewGuy" gives Flamin' Hot Cheetos five stars (!) and writes:
Let's all be honest, if you're here right now reading this you already know Hot Cheetos are delicious...Which is why I can tell you that you will not be disappointed with this product. I have ordered this several times and the product is always fresh and taste delicious. Unlike some of those store bought bags that are stale or have a small hole....On another note, be careful not to eat too many, these things can be potentially bad for you in large amounts!...Definitely enjoy them though. I know I will!
Amazon user "Mann" awards these snacks 4 out of 5 stars, and says:
"Too hot!"
"Sassy Suzzy" provides another five star rating, writing:
"These were shipped to my door on Valentine's day. I had one HOTTTT valentine."
"Elizabeth Carrasco" adds:
"this is the best thing ever Frito Lay has ever invented, I love it so freaking much, I have to order it thru here because in my country they don't sell it, but I'm so glad, they are amazing!!"
It's not all positive, though. Amazon user "Crystal Doo" gives the Flamin' Hot Cheetos a measly one star rating, and writes:
"The Bag came ripped"
Wow. Huge if true.