McDonald's Has Enough Szechuan Sauce For All 'Rick And Morty' Fans Starting This Month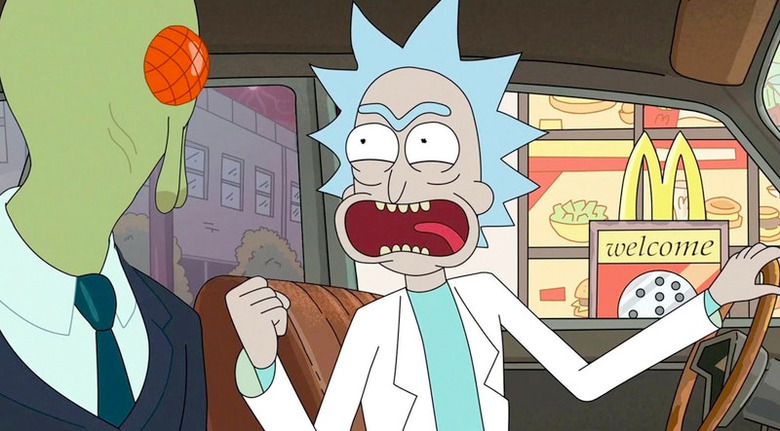 McDonald's really pissed off Rick and Morty fans last fall. The fast food chain released limited quantities of their beloved and desired Szechuan dipping sauce that debuted as part of a cross-promotion with Mulan in 1998 after the third season of Rick and Morty made such a big deal out of it. But the quantities were so limited that what was supposed to be a fun promotion turned into a pop culture riot.
After the Szechuan wars resulted in plenty of complaints being thrown at McDonald's, the fast food chain vowed to make it right by making infinitely more Szechuan sauce available so that everyone could get their hands on it. They vowed to bring back the sauce sometime this winter, and now we know exactly when we can get it.
McDonald's announced on a new website called "We Want the Sauce" that Szechuan sauce is returning to their restaurants everywhere later this month. If you came away disappointed last time, don't worry, because starting Monday, February 26, there will be 20 million packets of Szechuan sauce spread across all McDonald's locations across the United States.
That should be more than enough sauce to satisfy the hunger of Rick and Morty fans. It should be noted that you likely won't be able to go into a McDonald's and grab a bunch of sauce packets and leave since the site indicates you'll only get the sauce "with a qualifying purchase, while supplies last (which this time around, we hope is a while)."
The Journey of the Sauce
McDonald's is obviously making a big deal out of bring the sauce back, and that includes documenting the excitement surrounding the sauce and the process of making amends for their shortage last fall. Here's a tease, which makes this seem like some kind of NPR story:
If you find yourself wanting to know more about the sauce, there are three podcast episodes chronicling its journey:
If you're not the kind of person who listens to podcasts in your web browser, they're available on a bunch of other podcasting platforms as well.