Theme Park Bits: Toy Story Land Opening Date Set, Meet Black Panther Now, 'Wicker Man' Ride Looks Awesome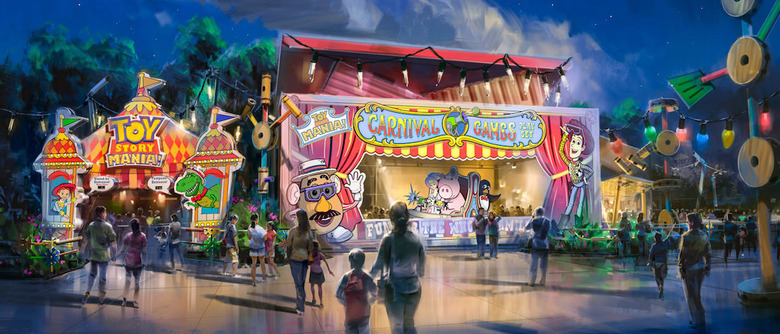 In this edition of Theme Park Bits:
See the announcement of the opening date for Toy Story Land at Walt Disney World.
All hail, King T'Challa! The time of Black Panther has arrived at Disneyland Resort.
Stunning new pics let you feel the burn of The Wicker Man roller coaster in England.
There will soon be The Walking Dead: The Ride.
Could Florida's Tower of Terror and Rock 'n' Roller Coaster give way to a future Marvel Land?
And more!
The official date for the opening of Toy Story Land at Disney's Hollywood Studios has been set for June 30, 2018. The announcement was made with a little help from Woody, Jessie, and Buzz Lightyear, who stopped by the Good Morning America studio this week.
Disney Parks Blog has all the latest details on the new toy-themed land and its attractions, which include the Slinky Dog Dash roller coaster, the Alien Swirling Saucers ride, Toy Story Mania (newly remodeled with a third track and carnival game box entrance), and the walk-up window-service restaurant Woody's Lunch Box.
Below, you can see one of the first test runs of a Slinky Dog Dash ride vehicle on the completed roller coaster track.
A week before the opening of Toy Story Land comes the opening of another new land on the opposite coast: namely, Pixar Pier at Disney California Adventure.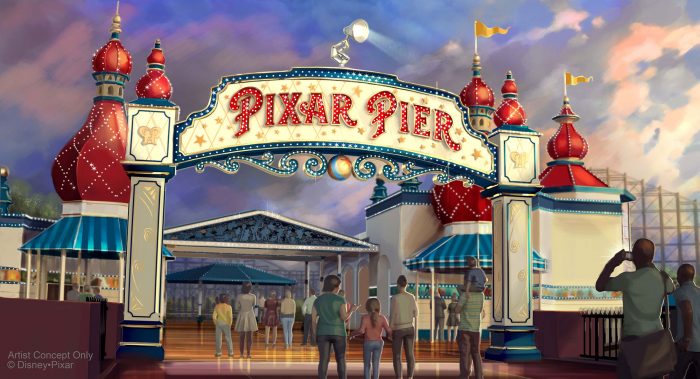 This week, Disney Parks Blog shared details of the all-new Lamplight Lounge in Pixar Pier. This seaside venue, which is housed in the former Cove Bar, "will serve California casual gastro-pub cuisine that is playfully presented along with unique signature cocktails."
Encounter #BlackPanther and his Royal Guards, the Dora Milaje, now at @Disneyland Resort! https://t.co/xJKICG4DMv pic.twitter.com/vwAqedjG85

— Disney Parks (@DisneyParks) February 19, 2018
As a surprise, the Dora Milaje (female Wakandan warriors) are guarding the entrance to the #BlackPanther meet-and-greet at @Disneyland California Adventure. pic.twitter.com/AaQI0zpobo

— Inside the Magic (@InsideTheMagic) February 16, 2018
Looking appropriately regal and fighting tough, Black Panther and his Royal Guards, the Dora Milaje (learn more about these elite warrior women here) have put boots on the ground at Disney California Adventure.
The King of Wakanda will be available to meet at this park for a limited time only, so unless you want to book a cruise aboard the Disney Magic ship for Marvel Day at Sea, this is probably your best chance to bump fists with T'Challa.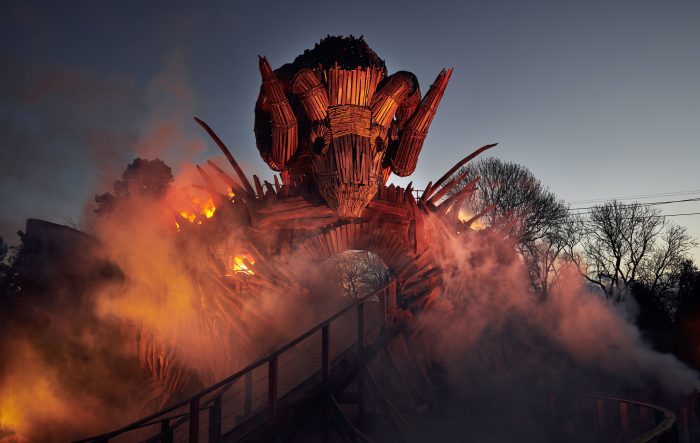 The idea of "fusing wood with fire for the first time ever on a wooden roller coaster" might sound questionable ... until you see pictures of how cool it looks. Thankfully,England's Alton Towers Resort has now shared some gnarly pics of its upcoming ride based on the classic horror film The Wicker Man.
Opening Spring 2018: Wicker Man at Alton Towers Resort! #wickermanride🔥https://t.co/3UnVEc9VEX pic.twitter.com/gxIvbdxHZ9

— Alton Towers Resort (@altontowers) February 16, 2018
We first reported on this ride last month, but at that time, only concept images were available. These photos make the thing look pretty sweet, but kids...don't try making a fiery wooden roller coaster at home.
"The Walking Dead: The Ride" set to debut this Spring at U.K.'s Thorpe Park https://t.co/pjiLRIwLcX pic.twitter.com/qDxr52ZbwP

— Inside the Magic (@InsideTheMagic) February 21, 2018
Elsewhere in the U.K., Inside the Magic reports that Thorpe Park has its own horror-themed coaster dubbed "The Walking Dead: The Ride" on the way.
An enhanced dining experience is coming to Be Our Guest Restaurant at Magic Kingdom Park starting this summer! Find out more: https://t.co/ZMTypCETlB pic.twitter.com/DHMlsCP0XG

— Disney Parks (@DisneyParks) February 21, 2018
If eating a simple French Dip sandwich for lunch at the Magic Kingdom's Be Our Guest Restaurant doesn't match your refined taste buds, how about dining on Filet Mignon there?
Rob Plays on YouTube has posted an interesting theory about the future of Tower of Terror at Disney's Hollywood Studios. In a nutshell, his theory states that Disney is in the process of phasing out rides based on non-Disney properties while also running "a litmus test in other parks to see if it would be worth building a Marvel Land in Disney's Hollywood Studios."
Universal's ownership of the theme park rights to various Marvel characters in Florida could, he argues, be renegotiated using fertile new properties acquired from 20th Century Fox as bargaining chips. Ready to see Alien and Planet of the Apes at Universal parks?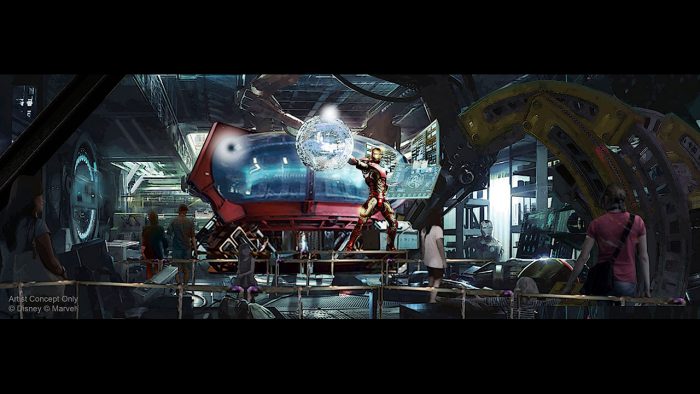 While he does not claim to have any inside information and the video is just his own hypothesis, he makes a convincing argument that Tower of Terror and the adjacent Rock 'n' Roller Coaster Starring Aerosmith could be "next on the chopping block," as they would be the only two remaining rides at Hollywood Studios that were not based on Disney-owned properties.
For what it's worth, this jibes with speculation made in a previous edition of this very column that the Twilight Zone Tower of Terror may not be long for this world. Keep in mind, Tower of Terror has already become Guardians of the Galaxy – Mission: BREAKOUT! in California, and one bit of news out of the recent D23 Expo Japan was that the Paris version of Rock 'n' Roller Coaster would be getting an Iron Man redesign, as seen in the above concept art.
If you would miss the Rock 'n' Roller Coaster, you can always book one of the new Future Rock Star Suites at the Hard Rock Hotel in Universal Orlando.
Attendance is up at Hong Kong Disneyland but Disney and more reports that the resort's losses doubled in 2017 due to expansion costs and other factors. The site also has the skinny on rumors that the Illuminations fireworks show at Disneyland Paris might end in 2019 and be replaced by a new nighttime water show on Lake Disney similar to World of Color or Rivers of Light.
Walt Disney World union workers have filed a federal complaint saying Disney is withholding planned bonuses from them until they ratify a new contract: https://t.co/8Qsx2XsNg2 pic.twitter.com/vsFhZX3t1M

— LaughingPlace.com (@laughing_place) February 19, 2018
A few last bits before we wrap up...
As The Laughing Place reports, a coalition of unionized Disney World workers has "filed a federal complaint saying Disney is withholding planned bonuses from them."
Construction Set to Begin on Planet Hollywood Counter Service Restaurant at Disney Springshttps://t.co/C9bklHpK8P pic.twitter.com/JrzqXzaPvw

— WDW News Today (@WDWNT) February 22, 2018


WDW News Today reports that construction work is about to begin on the Planet Hollywood counter-service restaurant at Disney Springs.
Get ready to shop for souvenirs while waiting in line for rides at Tokyo Disney Resort, courtesy of a just-announced smartphone app similar to the My Disney Experience one used in Florida.
It's official: the baby hippo at Disney's Animal Kingdom is a boy and his name is Augustus.
Disney has released its foodie guide to the Epcot International Flower & Garden Festival.
Tickets for the next Star Wars: Galactic Nights on May 27 are now on sale. If you missed it, we've also got a post up with new concept images of the planned Star Wars hotel at Walt Disney World.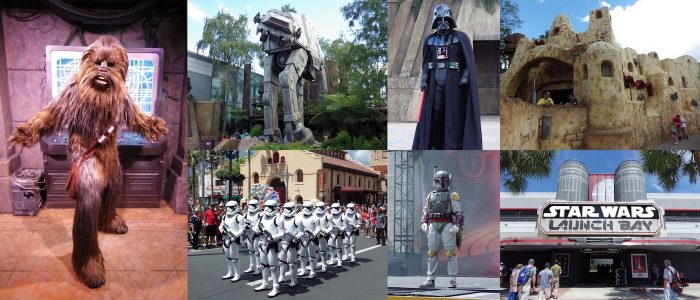 Finally, if you're a Star Wars fan and haven't been to the park in a while (or ever), here's a blog post with 55 photos giving a look at some of the current Star-Wars-related goings-on at Disney's Hollywood Studios.