'L.A. Confidential' TV Series Wisely Adds Walton Goggins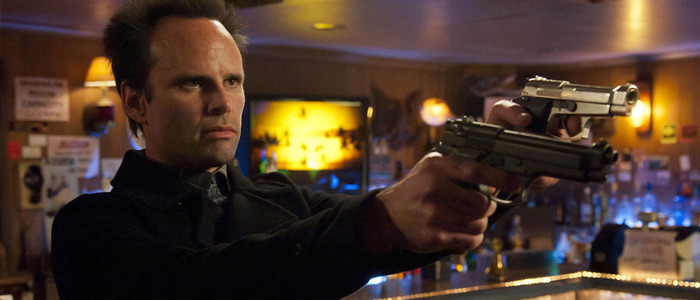 There's only one problem when you cast Walton Goggins. Once he shows up, you spend the rest of the movie/show waiting for him to come back. Thankfully, CBS' upcoming small screen take on L.A. Confidential won't have that problem – he'll be playing one of the lead characters.
Variety reports that Goggins has landed the role of Detective Jack Vincennes in the new network pilot. This is the part played by Kevin Spacey in Curtis Hanson's masterful 1997 adaptation of James Ellroy's equally brilliant noir novel. Vincennes is the smoothest corrupt cop in 1950s Los Angeles. When he's not solving crimes, he's collecting an extra paycheck as an advisor on a television police drama and busting movie stars to help his muckraker journalist friends get good headlines. It's a helluva character on the page and on the screen.
The casting of Goggins is a good sign. While CBS feels like the wrong home for a story as dense, complex, and often horrifying as L.A. Confidential, his casting suggests that this will be a series anchored by strong actors, not bland, traditionally pretty faces.
Goggins is a television veteran, having played the most fascinating characters on both The Shield and Justified. More recently, he stole scenes as the second lead of HBO's Vice Principals and headlined History's Six. On the big screen, he has worked with Steven Spielberg (Lincoln) and Quentin Tarantino (Django Unchained, The Hateful Eight). In 2018 alone, he can be seen in Maze Runner: The Death Cure, Tomb Raider, and Ant-Man and the Wasp. We have reached peak Goggins. All is well.
How Can This Show Be Different?
There's no getting around it: the L.A. Confidential movie is a masterpiece. This series will live in its shadow no matter what. However, it does have the edge in one way. The film masterfully condensed Ellroy's novel to a manageable two hours, slicing and dicing countless characters and subplots along the way. By refusing to mimic the movie and instead choosing to go back to the original source material, the series can take advantage of its longform, episodic format to adapt the book as written. It'll stand out and it'll give audiences something very different.
Of course, much of the stuff that was cut from the original film is gnarly enough to demand a network like HBO or FX. I have no idea how this functions as a CBS drama.
In any case, the casting of Goggins is already an interesting wrinkle. Spacey oozed charm as Jack Vincennes. He had the air of a movie star in a movie star town, a cop who always looks good on camera. Goggins is also a charming fellow, but there's a sleaze ball, con man charisma about him that should make his take on Vincennes very different.
In any case, this new show can't be any worse than the quickly abandoned L.A. Confidential series starring Kiefer Sutherland. Woof.