Hasbro Begins Crowdfunding For Collectible Toys, Starting With An Incredible 'Star Wars' Playset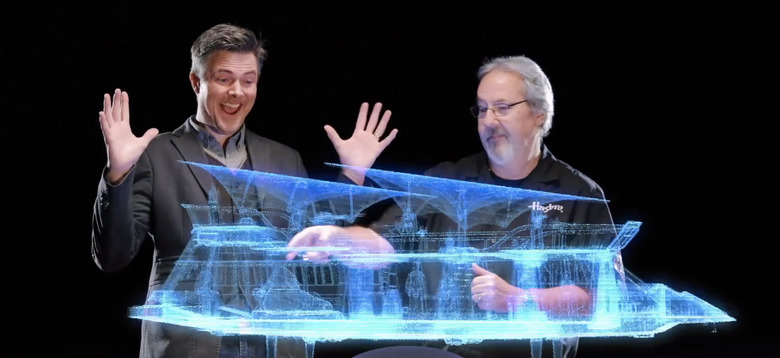 Hasbro is one of the biggest toy companies in the world, creating action figures, vehicles, playsets and more for franchises like Star Wars, Marvel, Transformers, G.I. Joe and much more. They deliver some of the most affordable and cool toys out there, but they know that fans want more, and they're trying to give it to them.
At Toy Fair 2018 this past weekend (check out our round-up of the coolest toys from movies and TV), Hasbro announced a new initiative called HasLab, a crowdsourcing platform that hopes to put dream products into the hands of fans. Just like projects on Kickstarter or Indiegogo, fans can support a limited edition toy and if the goal is met, they'll receive the toy. HasLab is kicking things off in a big way with a big Star Wars playset from Return of the Jedi: Jabba's Sail Barge.
Check out the HasLab announcement, with a better glimpse at the Jabba's Sail Barge playset:
Here's another sneak peek at the first HasLab project, which is made for 3.75-inch scale figures:
The vehicle playset is designed to be part of The Vintage Collection. It can be displayed as the full sail barge, or you can remove the side panels to show off all the figures you can fit inside. It also features soft cloth red sails, which is pretty cool, and it comes with Jabba the Hutt. But easily the most impressive thing is how big this playset is. It measures over 4-feet long, over a foot wide, and nearly a foot and a half tall, and it weighs nearly 14 pounds. If you want more details and images, check out the HasLab site.
So how do you get one? Well, you have to be one of the backers, and the project has to meet its crowdfunding goal. In this case, it will cost you $499.99 to support the project, and there have to be at least 5,000 people taking part in crowdfunding. This campaign will stop taking backers at 11:59 EST on April 3, 2018. If the goal isn't met, you won't be charged. If it's successful, that's when you'll pay for the playset.
Hopefully this is just the beginning of a new initiative for Hasbro. There are plenty of cool playsets that collector's want to get their hands on, but they never get made on this scale because it's not lucrative for Hasbro to make such an expensive toy that isn't guaranteed to sell. But by doing this, Hasbro guarantees they make their money back for manufacturing and fans get what they want. What kind of playsets would you like to see from HasLab?